Toddler's Games: Animal Match
Released TODAY April 8, 2012

Animal Match provides your toddler with hours of free educational entertainment! Whether you are on a long car ride, cooking dinner or just waiting in line, you will no longer have to worry about a bored or fussy child. This matching game will develop your toddler's memory skills with fun and colorful animals and sounds that they will love! The app is easy to engage with it's big buttons, no menus and NO ADs!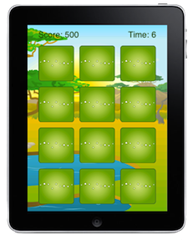 Toddler's Games: Animal Match is available for download today in iTunes.
Although geared for younger toddlers, I asked Ethan (3 1/2) and Emma (5) to give it a try. The first thing I noticed was the bright vibrant colors. They were attractive and attention getting. Game play is easy enough for a young child… a simple tap on the green square and an animal will appear and the sound the make will play. Tap on a second square to find it's match. If you are successful the two squares will disappear and more of the background will be visible. If unsuccessful, the both turn back over face down. After each match, the corresponding animal will pop up on the background as well. Fairly simple, but cute.
So how did it go over with the kids? I downloaded the game onto my iPad and let them give it a shot. Emma was able to play the game with ease and actually played several times before asking to play another game. Ethan needed a little encouragement to find the match, but got the hang of it quickly. There were a few times he got a little frustrated, but once he found that particular match he was happy. During his game play Emma hovered over him to help guide him to the correct square when he was stumped. He played several rounds before asking to play another game as well.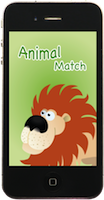 I also asked my reviewer Lindsay to try it with her two children. She downloaded the app onto her iPhone for them to try. Her son Karson is Ethan's age (almost 4) and enjoyed the game for 4-5 rounds before losing interest. Lindsay asked him what his favorite part was and he said "I winned, and the Lions". Lindsay mentioned "I think it would be great if they had more levels, or had different animals to switch to, something to hold their attention a little longer."
Lindsay's daughter, Kenna, is 18 months. She sat with Kenna while using the app and let her play naturally without direction. Kenna enjoyed the game much more than the older children and was clapping each time an animal showed up.  Kenna understood that she had to touch the green card to get an animal to show up and make a noise, but she didn't understand the "matching" portion of the game. Regardless, she enjoyed it a lot and was even making "oohhh" noises and clapping when the animals appeared.
Our overall observations were that the older children that did understand the matching portion of the game enjoyed it for several rounds, but soon lost interest because each round was very similar. Both Lindsay and I would love to see a few additions so that the older toddlers/preschoolers would love it as much as the younger. We'd love a few more animals added to the mix for variety and maybe some changes in the colors to keep the older toddlers attention. Kenna, at 18 months, seemed to enjoy the colors, animals and sounds more than the actual game play. For her, the cause and effect of touching the square was enough entertainment to keep her happy and engaged. As the game is intended for this age range, I'd say it hit the spot!
I made a short video of Ethan playing a round of Toddler's Games: Animal Match.
To celebrate the apps release, the developers are having a contest to give away a $50 Toys'R'Us Gift Certificate at http://signup.appstractart.com. Hurry over and enter… it ends April 21, 2012!
Disclosure of Material Connection: I received one or more of the products or services mentioned above for free in the hope that I would mention it on my blog. I only recommend products or services I use personally and believe will be good for my readers. I am disclosing this in accordance with the Federal Trade Commission's 16 CFR, Part 255: "Guides Concerning the Use of Endorsements and Testimonials in Advertising." The opinions expressed in this post are entirely my own. Your experience with the product may differ from mine. The sponsor is responsible for prize fulfillment and will be shipping the winner(s) their prize(s). For more information read my disclosure policy.