Angelina Ballerina The Mouseling Mysteries Follow the Clues on DVD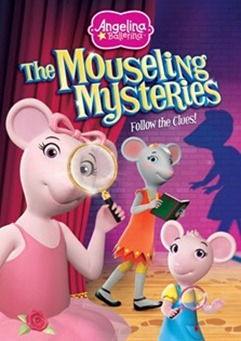 Disclosure: I received the below mentioned item(s) free of charge in exchange for an honest review. All opinions are 100% my own and are not influenced in any way.
Big Sis LOVES music and she loves to dance. So it's only fitting, and natural, that she LOVES Angelina Ballerina.
There is a new Angelina Ballerina DVD out called The Mouseling Mysteries. In this fun movie, there are some strange things going on in Chipping Cheddar. You get to follow Angelina and search for clues with her. They think Roquefort Hall is haunted, music goes missing, and Mrs. Chirpyface disappears.
Angelina and her friends go out looking for clues to solve these mysteries, and your Little can join in.
Watch this fun clip, you'll be hooked and need to see the whole show! 🙂
Since we watched this movie, Big Sis has to "find the clues" to everything. It's so fun to watch her learn even a fun new game to play. She loved this movie because she got to play along.
The Mouseling Mysteries is about 61 minutes long. That hour seems to go by quickly as they sit and watch the movie because it's so much fun! There are a couple new Bonus Features on this DVD as well. There are Ballerina Puzzles and a karaoke music video to sing and dance along with. Perfect for the child who loves to be on the move, singing and dancing all day long.
I like that Angelina Ballerina is a good friend, kind "person", and fun. I like that Big Sis can watch this movie (and the shows for that matter) and not be exposed to danger, violence, scary stuff, or bad language.
Visit the Angelina Ballerina WEBSITE for fun games, to watch shows, and much more! You can buy Angelina Ballerina The Mouseling Mysteries on DVD on AMAZON
.
This product was reviewed by my friend Courtney. She is a wife and Stay At Home Mommy to 2 wonderful cuties! She blogs over at Joy Of Momma Joyner. On her blog you can find posts about Child Development, Pictures of her family, and great reviews and giveaways. She has a passion for children and watching them grow and learn. When her kids are in all-day school Courtney would like to go back to work as a preschool teacher.