Sample received. All opinions are my own.
Little girls just love their dolls! When my daughter got her first American Girl doll she was in LOVE! Having a doll that looked like her and that she could wear the same outfit as her doll was just too good. She could even take her doll to the store to have her hair and nails done and pick from a wide variety of clothes and accessories to let her imagination come to life! I mean how could it get any better than that right? Well, the folks at American Girl did just that when they came out with the Wellie Wishers.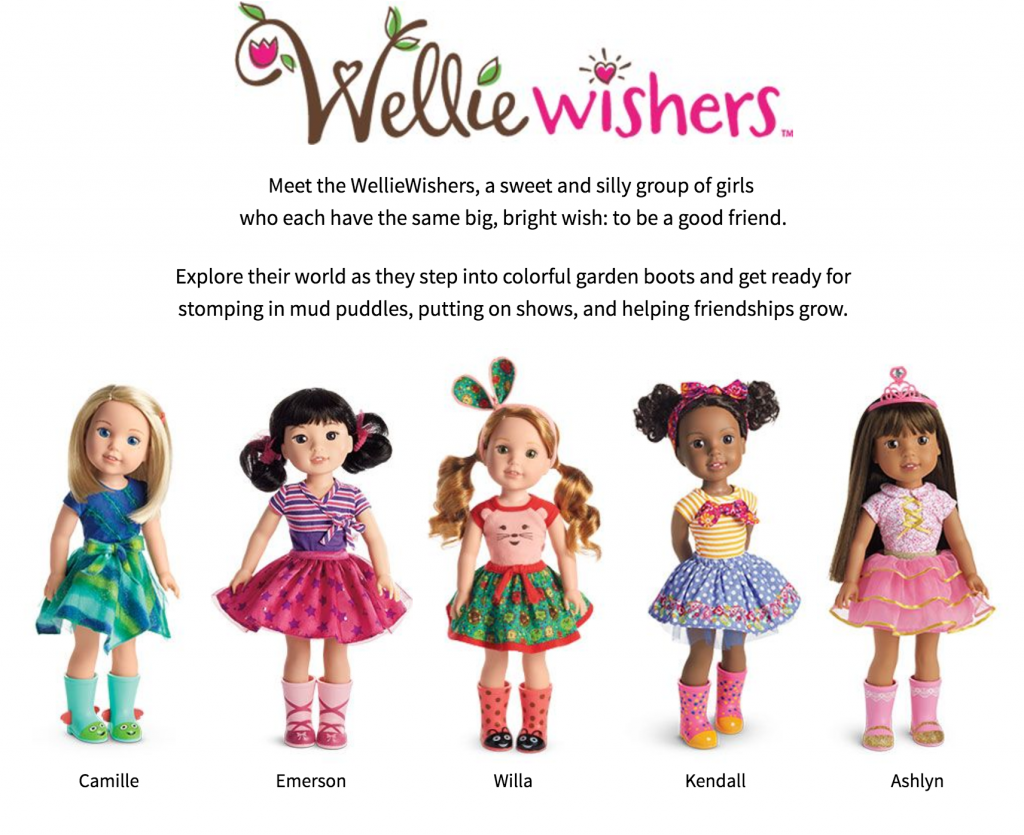 The line has five main characters: Willa, Kendall, Ashlyn, Emerson, and Camille. They are all characterized as young girls of about early elementary age (5-7) who meet together in a backyard garden (supervised by Aunt Miranda, who is Willa's aunt) to play with each other. While they each have unique personalities and interests, they play together freely and enjoy each other's company; the line characterizes them as all wanting the same overall goal of being a good friend and taking a step in each other's "wellies" to understand each other.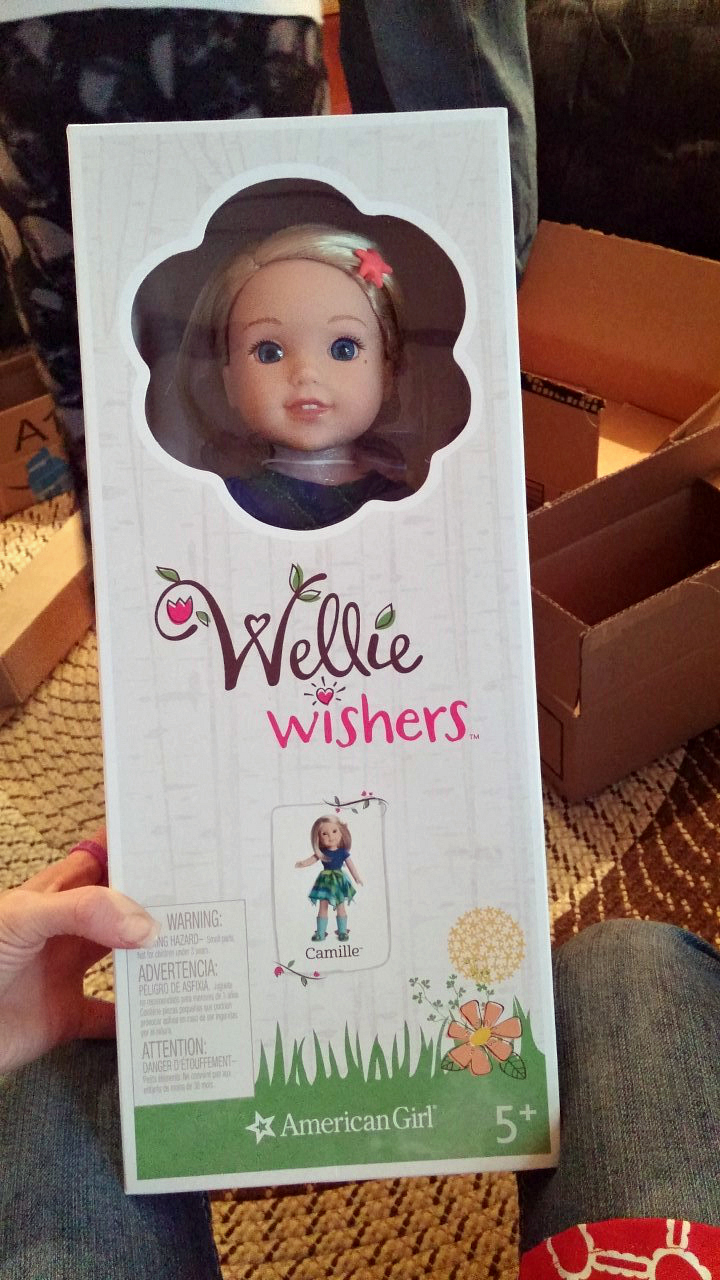 I chose Camille for my daughter since she has blonde hair and blue eyes as well. She had the cutest blue and green outfit on complete with little rubber boots!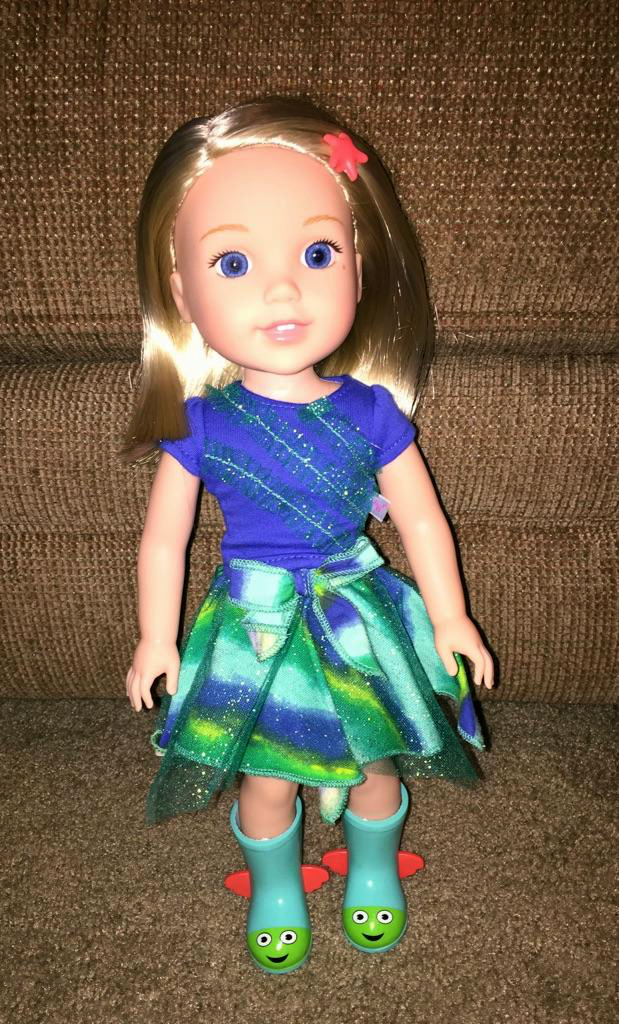 Camille adores the ocean—and she's mellow as a mermaid. She's the one her friends turn to when they need someone to listen. This 14.5″ (36.8 cm) doll is sized just right for younger girls. She has blue eyes, a freckle on one cheek, and silky blond hair that can be brushed and styled. Plastic/vinyl. Includes:
A deep-blue tee with glittery mesh ruffles
A tie-dye print skirt with a handkerchief hem, a glittery mesh layer on top, and a bow at the waistband
A coral starfish clip for her hair
Light-pink underwear
Blue wellie boots with red fins and smiley fish faces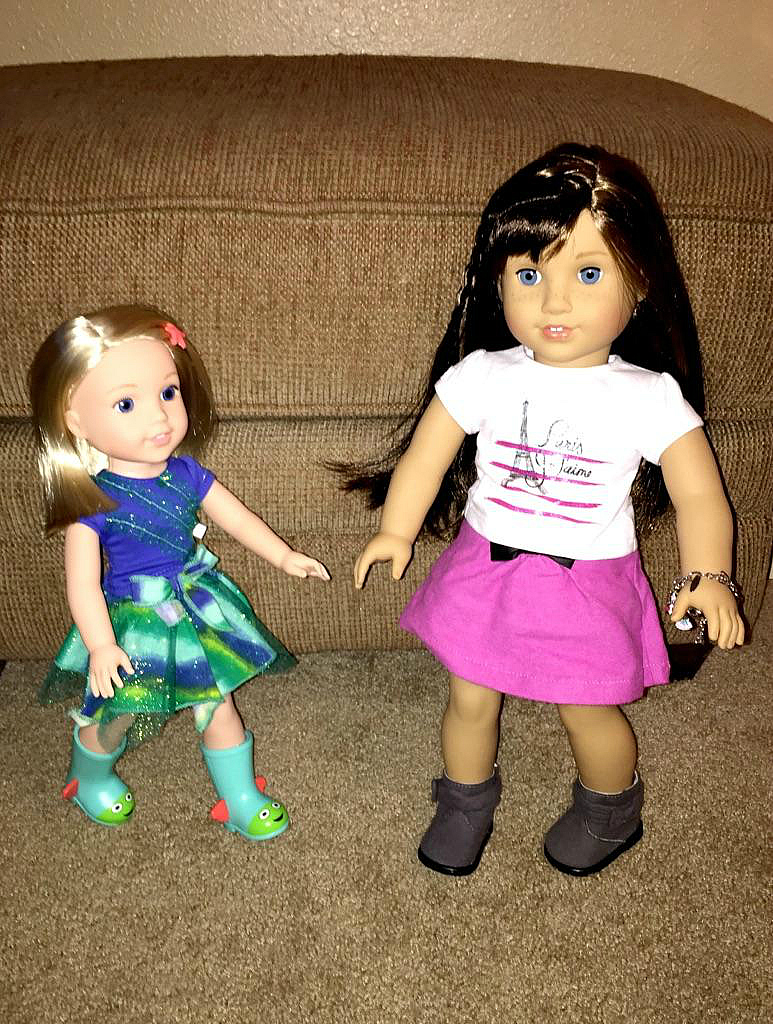 She is smaller than the original American Girl doll so she would be perfect for the little girl. I took a picture of her next to the American Girl doll, Grace for reference. Her body is much harder and her limbs aren't as movable as her bigger "sister". She still has the same lovely hair and molded face, but her eyes do not open and close. Again, several of these features I am sure are geared toward the younger age girls. I love that you can still find matching clothes for my daughter which is something she always finds fun and you can still take her to the American Girl doll salon and have all the "fixins" done.
Overall, Camille is just the sweetest little doll to add to my daughters collection. She has really enjoyed playing with her alongside her American Girl doll. One of the best things about these little sweeties is the the Wellie Wishers concept of the friends teaching other how to be kind, accepting each other as they are and how to be friends with each other. It is such a great positive message to all little girls!