About Activia Selects:
With new styles such as French, French with Fruit Bites, and Greek, you can satisfy your sweet cravings and help regulate your digestive system by consuming Activia daily for two weeks as part of a healthy lifestyle. Activia Selects contain an exclusive probiotic culture Bifidus Regularis and helps you feel good inside. These silky French and creamy Greek varieties prove nutritious and tasty options for those who have a texture preference.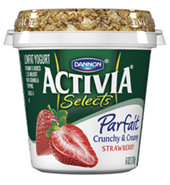 Our thoughts…
The kids and I have had a love affair with yogurt for ages. Although we haven't purchased the parfait type with granola included, we have been known to add our own fruit or granola.
I enjoy yogurt as a mid morning snack. It tends to hold me more effectively until lunch than a carby type of snack like pretzels. I like that yogurt is a nutritious snack or addition to any meal. It's quick and easy, helps curb my sweet tooth and also adds a little dairy to my day.
I found Activia Selects Parfait at my local grocery store. There weren't many to choose from, but they had our standard strawberry to try. As I sat down to enjoy this delicious looking parfait, Emma and Ethan watched me longingly. I mixed in the granola and took a bite. The texture is creamy with the added crunch from the granola. It is a sweet yogurt, almost a nice evening snack type of sweet. I prefer my yogurt on the sweet side so it was perfect for me… for us. I will have to pick up several more so Emma and Ethan can enjoy it, too.

OurKidsMom loves companies that give back…

In support of Dannon's ongoing commitment to health and wellness, the company is going pink in support of national breast cancer awareness month. 
Dannon will donate at least 10 cents for each under-the-lid code entered at www.cupsofhope.com before 12/31/11 – up to $1.5 million – to the National Breast Cancer Foundation, Inc.® (NBCF). Dannon is committed to a $500,000 guaranteed donation to NCBF, including retailer-specific programs.
Each specially marked package of Dannon yogurt contains an under-the-lid code. Participating in Give Hope With Every Cup is as easy as entering the code from the lid at www.cupsofhope.com.
NBCF is committed to spreading knowledge and fostering hope in the fight against breast cancer. With support from Dannon, NBCF will fund free mammograms for women who could otherwise not afford them and will support research programs in leading facilities across the country.
For even more information about Activia Selects Yogurt, check out Activia Selects and visit the Activia site.
I wrote this review while participating in a campaign by Mom Central Consulting on behalf of Activia and received a coupon to facilitate my review and a promotional item to thank me for taking the time to participate.