8 FREE Travel and Vacation Planning Apps
This post is part of the Verizon Ambassador program #vzwbuzz. All opinions are my own.
Now that the birds are chirping and spring is officially here, my thoughts are turning towards our family summer vacation.
We have yet to agree on whether we are hopping a plane or taking a fun road trip, but regardless the following apps will be helpful for just about any vacation.
From dreaming and planning to getting there and enjoying the attractions. There's an app for that.
I'm going to start with a just for fun app that I am currently running on my phone for our December cruise.
It's a fun countdown app that allows you track and count down events.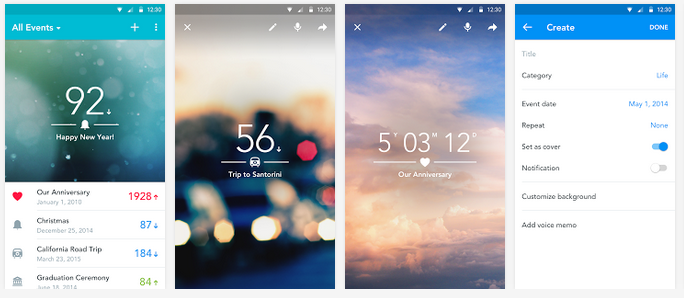 Dreamsdays 365
Count down to the occasions that matter to you with style, reminders, and voices with more than 5 million users worldwide! In Dreamdays, you can sort through your countdown events through categories and degrees of importance. You will be able to customize each countdown event with your personal background, record voice memos that reflect your feelings, and share your delight with friends on Facebook, Twitter, and Instagram.
Main Functions & Highlights:
– Supports countdown to events and counting up once they arrive
– Six default categories (Anniversary, Birthday, Holiday, Life, School, Trip) and the ability to add new ones
– Voice memos to record your thoughts for each event
– Set your favorite event as cover with ease and style
– Push notifications to remind you of an arriving event
– Customizable background for each event
– Customizable order of events
– PIN protection to keep your privacy
– Widgets to keep track of your events directly from the home screen
– Share your delight with friends on Facebook, Twitter, and Instagram
– Working on Android Wear!
– Calendar available

Kayak
If you have decided you are going to need a flight, hotel or rental car check out Kayak. Kayak saves me money every time I travel!
The smart travel search engine. Hotel, flight, and car search and booking, flight tracker and itinerary management all in one. They search several sites and give you the lowest quotes available.

TripIt Travel Organizer
Organize your travel plans in one place with TripIt® from Concur. Simply forward your travel confirmation emails to plans@tripit.com and TripIt automagically creates a detailed daily itinerary for every trip.
Key Features
• Forward hotel, airline, car rental, and restaurant confirmation emails to plans@tripit.com to create an instant itinerary (If you use Gmail or Google Apps, it happens automatically)
• Access itineraries anytime, on any device (even offline)
• Get directions, maps and weather for each destination
• Sync trip plans with your Google Calendar or Outlook
• Add or edit plans manually—from the app or on tripit.com
• Share some (or all) of your trip plans via email or social

WorldMate
WorldMate may just be the ultimate travel app. Join over 10 million travelers who rely on WorldMate to plan, book, and manage every aspect of their trips.
WorldMate automatically organizes your trips, sends you flight alerts*, recommends great hotels for booking, and offers a wide array of other incredible travel services.
Experience the magic of WorldMate! Forward your airline, hotel, car rental, and even OpenTable confirmation emails to trips@worldmate.com, and you're good to go!
Travel Assistant:
• Home Screen – Get all information you need for your trips to make your travel worry-free, just when you need it.
• Itinerary Manager – The WorldMate itinerary stores all the vital information you'll need for managing, planning and organizing your trip — beautifully delivered and simple to use.
• Share Itinerary Details – Easily share your travel plans with friends and family via Facebook, or a personalized email. Share the entire trip, part of it or real-time Flight Status
• Flight Status – WorldMate will show you the real-time flight status of your flight so you can easily adapt to flight changes.
• Pushed Flight Alerts – Receive automatic notification of delays, cancellations, and gate changes.
• Flight Reminders – WorldMate will send you a flight reminder a few hours prior to departure, allowing you to know in advance if your flight's gate or time has changed.
• Flight Search –locate the best flight routes based on your destination, even before your agent!
• Past trips – access your entire past trips information from within the app.
• Mapping & Navigation – View your trip items on map to know where your hotel, car pickup or next meeting is located. Need help getting around? Just click on the 'Get Directions' icon, and we'll show you the best routes
• Travel Widget – Quickly view the next item on your trip right from the device's home screen.
Hotel and Car Booking:
• Hotel Booking – Get the best room available using WorldMate's exclusive deal search, now including improved filters!
• "Price Alerts" and "Counter Offers" –WorldMate reviews your hotel booking and notifies you of price drops and saving opportunity.
• Car Rental – Reserve a rental car from hundreds of airports worldwide in unbeatable prices.
• Airport Pickup– Don't feel like driving? Make limo, town car and van reservations with ease. • Express Booking – Make your future hotel bookings quick and simple by allowing WorldMate to remember your payment information.
Travel Tools:
• Weather Forecast – Know what to pack using compete 5-day weather forecast.
• Currency Converter –Daily Exchange Rate updates for global currencies
• World Clocks – Always get at the right Time to the right Place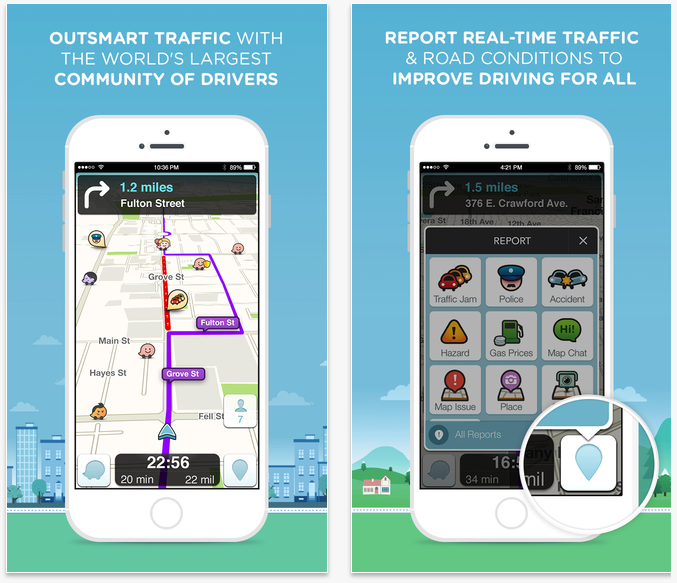 Waze Social GPS, Maps and Traffic
My husband and daughter run this app every day… not just when traveling. You find find gas prices, be alerted when there are road hazards ahead or traffic back ups and it will even alert you if someone has reported police ahead. Waze will help you get to your destination the quickest way possible without the backups.
Waze is the world's largest community-based traffic and navigation app. Join drivers in your area who share real-time traffic & road info to save time, gas money, and improve daily commuting for all.
Just by driving with Waze open, you're already contributing tons of real-time traffic information to your local community. You can also actively report accidents, police traps and other hazards you see on the road. Get road alerts along your route and find the cheapest gas prices around you shared by the community. Plus, you can add friends, send locations or keep others posted on your arrival time.
– Live routing based on community driven, real-time traffic & road info
– Community reported alerts including accidents, hazards, police traps, road closures, and more
– Turn-by-turn voice guided navigation
– Live maps, consistently edited and updated by Waze community map editors
– Automatic rerouting as conditions change on the road
– Send your ETA & real-time drive to update those you're meeting
– Learns your frequent destinations, commuting hours, and preferred routes
– Find the cheapest gas station on your route
– Add information on local places and businesses
– Add Facebook friends and sync Contacts
– See friends' ETA when driving to the same destination
– One tap navigation to Facebook & Calendar events
– Earn points as you contribute road info and climb the ranks in your community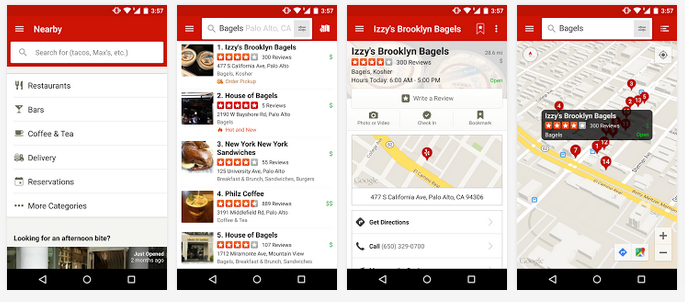 Yelp
Once you've made it to your destination, you are going to want to eat… right? The issue is, WHERE? With Yelp you can find local restaurants and read recent reviews so you "know" where you are going.
Top-ranked Yelp for Android has over 50 million reviews on businesses worldwide — all in the palm of your hand. Whether you are looking for a pizzeria that is open now or a coffee shop nearby, Yelp is your local guide to finding just the place to eat, shop, drink, relax, and play.
★ Discover great local businesses.
★ Search for nearby restaurants, shops, and services.
★ Filter search results by neighborhood, distance, rating, price, and what's open now.
★ Read millions of reviews written by a community of active, expert locals.
★ Get to know a business through beautiful photos.
★ Find great Deals offered by your favorite local businesses.
★ Look up addresses and phone numbers, call a business, or make reservations directly from the app.
★ Write reviews, check-in to businesses, upload photos, and add tips of your own!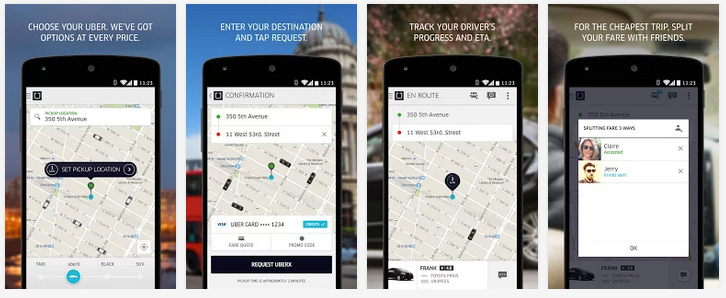 Uber
If you flew to your destination and need a lift, Uber has revolutionized the car service industry.
Uber is your private driver in more than 50 countries.
– Request a ride using the Uber app and get picked up within minutes. On-demand service means no reservations required and no waiting in taxi lines.
– Compare rates for different Uber options and get fare quotes in the app. Pay with Google Wallet or PayPal, or add a credit card to your secure Uber account so you never need cash on hand.
– Easily set your pickup location on the map, even if you don't know the exact address. Get connected to your personal driver and check the progress of your Uber at any time.
– Sit back, relax, and go anywhere you want. We'll email you a receipt when you arrive at your destination.
An entirely new and modern way to travel is at your fingertips.

Google Goggles
While exploring your destination you might run across a landmark or item that you want to know more about. With Google Goggles you can search the internet with just a photo.
Search by taking a picture: point your mobile phone camera at a painting, a famous landmark, a barcode or QR code, a product, or a popular image. If Goggles finds it in its database, it will provide you with useful information.
Goggles can read text in English, French, Italian, German, Spanish, Portuguese, Russian, and Turkish, and translate it into other languages.
Goggles also works as a barcode / QR code scanner.
Features:
– Scan barcodes using Goggles to get product information
– Scan QR codes using Goggles to extract information
– Recognize famous landmarks
– Translate by taking a picture of foreign language text
– Add Contacts by scanning business cards or QR codes
– Scan text using Optical Character Recognition (OCR)
– Recognize paintings, books, DVDs, CDs, and just about any 2D image
– Solve Sudoku puzzles
– Find similar products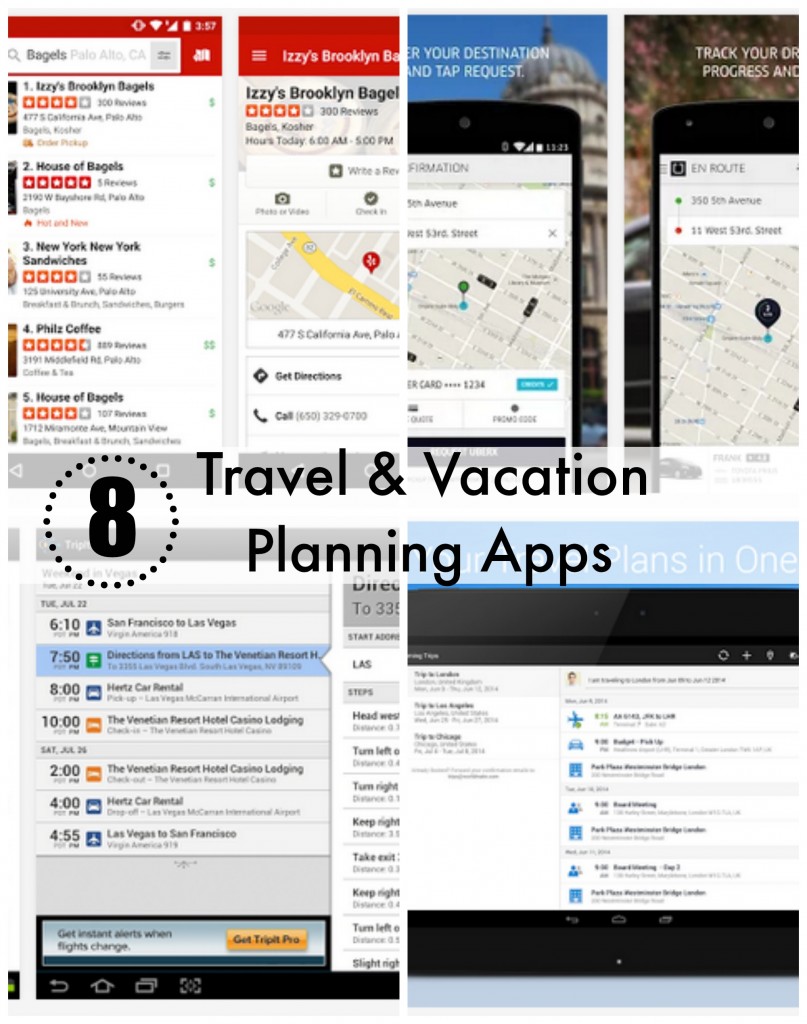 Do you have a favorite vacation planning or travel app not on the list? Tell us about it!