Nothing is more exciting than updating a kitchen. After all, the kitchen is the heart of a home and often what most people see first when they walk into your home. If you are renovating your kitchen, you know it costs a pretty penny, but it can be challenging to know where to spend your money. You can do so many things to renovate and revamp your kitchen, but too many choices can be overwhelming. Many kitchen changes are for aesthetic purposes, and others are for practical edits, both of which can be found on this list.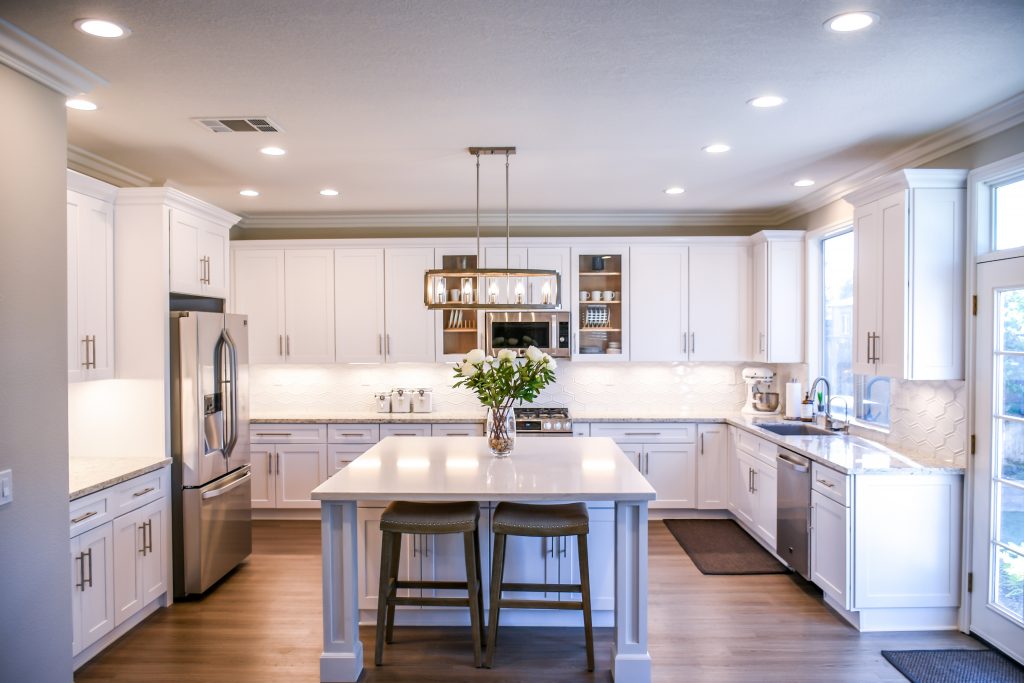 Kitchen Island
One of the most popular kitchen renovations is adding a kitchen island. Homes are becoming bigger, which means so are kitchens. Open concept homes welcomed a period of kitchen island to separate the kitchen from the living space. Kitchen islands are a popular option because they provide more counter space and storage space. Depending on how large your kitchen island is, it can also be converted to house an appliance or sink. Really large kitchens can also add a larger island to serve as an eating space.
Appliance Garage
Many avid home cooks know that they would be lost without their trusty KitchenAid Stand Mixer and Vitamix, but that does not mean that we always want appliances to be displayed. Sometimes the prettiest kitchen is one that has nothing in it. Appliance garages were invented so that you could keep your nifty appliances nearby without creating an overly crowded kitchen. An appliance garage is a hidden compartment that stores small appliances away. They were created to help your kitchen develop a cleaner, more minimalistic look.
Whole House Water Filter Replacement Water filtration is often overlooked in kitchen renovations. Having a built-in whole home water filter system helps remove contaminants in your water. Water filtration should not be exclusive to drinking water. Chlorine, lead, and bacteria can live in your water and cause foul smells and strange tastes. Having safe and clean water from your faucet is great for home cooks, families with kids, and those that have chemical sensitivity.
Pantry with Roll-Out Shelving
Nothing about a kitchen is less appealing than an overstuffed pantry. Canned goods and extra kitchen items often make the pantry their home, and before you know it, these items can pile up and make navigating the pantry a nearly impossible task. The issue with pantries is that they are easy to fill but hard to clear—solution: roll-out shelving.
Forget the days of buying beans and forgetting about them because it was on the way back to your pantry. Having roll-out shelving allows you to see the items in your pantry, including the ones deep in the back. This can help cut down on prep time and eliminate food waste.
Pull-Out Trash Can
Another pull-out staple in your kitchen renovation is a pull-out trash can. Trash cans are not attractive, not even your $100 Simple Human trash can. However, cooking creates waste, and the best way to incorporate it into your kitsch is by having a built-in pull-out trash can. This allows you to have regular bin access in your kitchen (the home of waste). Having them mounted on sliders makes them easy to access, and the enclosed cabinet minimizes odors. You can also opt for a model with two bins, one for trash and one for recycling. In addition, your toddler can't knock it down, and your poodle won't be able to get her paws into it.
Cabinet Fridge
Many kitchen renovations are done to maximize the appearance and utility of the space. The cabinet fridge is no exception. More people are taking advantage of cabinet fridges' modern and sleek look. Cabinet fridges are a fairly new concept but designing your fridge to match your cabinets creates a sleeker finish in your kitchen. Cabinet fridges also can be built flush into the wall, giving you more area clearance in the kitchen.
Professional Range
No serious home cook can be without a professional range. Professional ranges are typically larger than the average range, and it is common to see six burners and two ovens on a professional range. They are great for large-scale cooking and entertaining, both necessary for home cooks. In addition to having more burners, the grates are typically bigger and built to last. They often come with nifty modes and features that cannot be found from a standard range. Also, a beautiful professional range is a great conversation starter.