Playground equipment allows children to explore their environment and develop their motor skills. Monkey bars, slides, and swings are all intended to get kids moving and using their imaginations. 
In addition, playground equipment can help foster a sense of community by providing a place for children to interact with each other.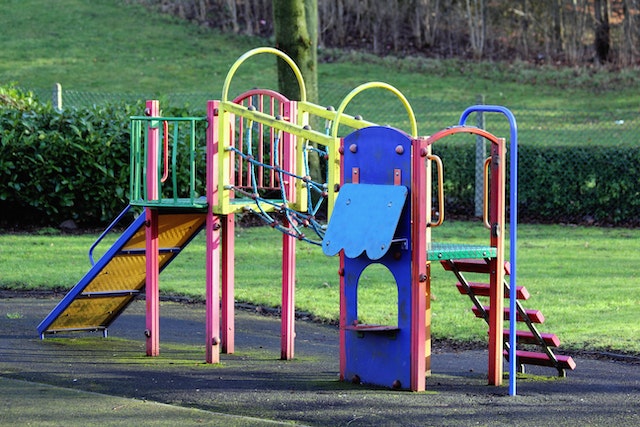 Playgrounds occupy simple metal structures, which often includes features such as climbing walls, zip lines, and advanced swing sets. This variety helps to ensure that there is something for every child to enjoy. 
Guide to Choose Playground Equipment for Schools
As a school administrator, you know that choosing the right playground equipment is an important decision. Not only do you choose equipment that ensures safety for your students, you also like to choose equipment that will encourage active play and will provide excellent opportunities for social interaction. 
Knowing where to begin can be challenging when so many options are available. Here are six tips to help you choose the best playground equipment for your school
Safety First 
When choosing playground equipment for your school, safety should always be your top priority. To ensure safety of your students, there are a few considerations you should make. 
First, make sure the equipment is suitable for the user's age. Younger children should not be using equipment meant for older kids, as they could be injured if they fall from heights or get caught between parts of the structure. 
Second, look for protruding bolts or sharp edges that could cause scrapes or cuts. Additionally, make sure there are no little pieces that could come loose and present a choking risk.
Know Your Budget
The first step in choosing playground equipment is knowing how much money you must spend. Work with your school board to determine a budget for the project, and then use that budget as a starting point for your research.
Remember that you may get discounts by purchasing in bulk or working with a particular vendor.
Determine the Age and Ability of Your Students
Another important consideration when choosing playground equipment is the age and ability of your students. If you have a large student population, you may consider investing in different equipments for different age groups. 
Additionally, choose equipment appropriate for your students' physical abilities. If you have students with special needs, be sure to consider their individual needs when making your selections.
Consider the Size of Your Playground Area 
When choosing playground equipment, it's essential to consider the size of your playground area. You'll want to ensure that your selected equipment will fit comfortably in the available space. 
If you have a small playground, select smaller equipment or multi-purpose pieces that serve multiple functions. 
Conversely, if the playground area is large, consider investing in larger equipment or adding additional features such as swings or slides.
Get Input From Your Students and Staff 
Finally, don't forget to involve your students and staff in the selection process! Since they will be the ones using the playground every day. 
Ask for input from both groups on what type of equipment they would like to see on the playground, and use their feedback to narrow down your choices. 
By involving stakeholders in the decision-making process, you can be confident that you're choosing playground equipment that everyone will love.
Get Quotes From Multiple Suppliers
Like anything else, it's essential to look around when choosing playground equipment for schools. Before deciding on a supplier, request quotes from a number of them. 
That way, you can be sure you're getting the best possible deal on high-quality, safe equipment for your school's playground.
Quality of the Equipment
Quality should be the top priority when choosing playground equipment for your school. Cheaper equipment is more likely to break or wear out quickly because it is frequently made of lower-quality materials. 
On the other hand, higher-quality equipment is made to last and can give students years of enjoyment and exercise. In addition, higher-quality playground equipment is often more stimulating and engaging, encouraging kids to stay active and play for extended periods. 
As a result, investing in quality playground equipment is a wise investment that will pay off for years to come.
Conclusion
Purchasing playground equipment for your school is a big decision – but with these tips in mind, you'll be able to choose the perfect items for your students in no time! 
Remember to prioritize safety, consider the size of your playground, and get input from the kids before making your final decision. 
With these factors in mind, you'll be able to find high-quality items that fit within your budget – ensuring that your students have a safe place to play for years to come.