5 Unique Kids Birthday Party Themes
Every year is another opportunity to surprise your kid with a unique birthday party. This list includes our birthday party picks, from the ultra-whimsical to the superhero extravaganza. If you're looking for birthday party ideas for your child's big day, these are some of the best and most unique themes we could find.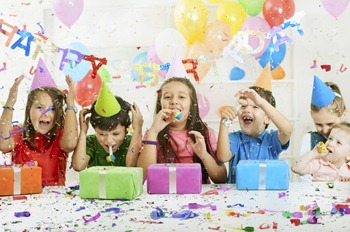 1. Whimsy Under the Sea
What little girl doesn't love The Little Mermaid? If your little redhead (or brunette in a red wig) loves mermaids, this party theme is like a dream come true for her. This is the perfect focus for a summertime pool party.
Decorations should be in shades of blue, white and brown. The blue represents the sea, while the white represents the ocean's surf. The color brown is for the sandy beach. It may be a good idea to collect some sand and shells to place in bottles to use as centerpieces. 
2. Day Camp
Another perfect summertime party theme is camping. What kid doesn't like roasting a marshmallow over an open flame? This party should include activities like relay races, cooking s'mores and telling spooky campfire tales. This party can be hosted during the day time, but it's more fun if little campers can pitch a tent and spend the night. Consider forgoing a cake for some s'more flavored cupcakes instead.
3. Creativity Party
This hands-on party is a terrific way to teach kids about art and show them a messy good time. Set up stations, with a creative activity at each one. Give kids the opportunity to paint pottery, make bracelets and create a mosaic. Make sure to specify that children need to come dressed in play clothes, because things will get very dirty. You may want to provide smocks to children to further protect their clothing.
4. Superhero Party
Does your little guy or gal dream of fighting crime? A superhero themed party challenges children to imagine a superhero and dress up like them. Or, they can pick a favorite from the legions of good guys. Guests are also encouraged to come dressed up. Activities can include decorating masks and capes. This is a great opportunity to put a new spin on the game of tag. Parents are encouraged to play the bad guy, or "it," dressing down in dark clothes and letting the children stop them.
5. Dinosaur Hunter
TLC suggests a dinosaur hunting party for your little fossil lover. Simply hide prizes in a large sandbox and let kids excavate them. Children will adore digging up small Easter eggs, filled with dinosaur themed prizes and candies. You'll also be sending children home with a beach bucket and shovel, making for a nice parting gift. TLC recommends, "stick with a dino-themed cake and decorations to keep the excitement going, and let guests take home the unearthed toys and candy as party favors. Your kid will likely remember this afternoon as the best birthday bash of the era."
A word about invitations:
You can get really creative with this party's invitations. In fact, all invitations should make it really clear what the party's theme is. You want your guests to come dressed in the proper attire, knowing exactly what your kid's party is all about. If you don't have the time or the creativity for that, there are tons of gorgeous pre-made invitations cards available online. You just need to find the design and format that best suit your needs.
These are some unique party themes for your kid's birthday! What are some other ideas you can think of?