Nantucket is a charming island that is not only the largest National Historic Landmark District in the country but also prides itself on preserving almost half of its territory from development.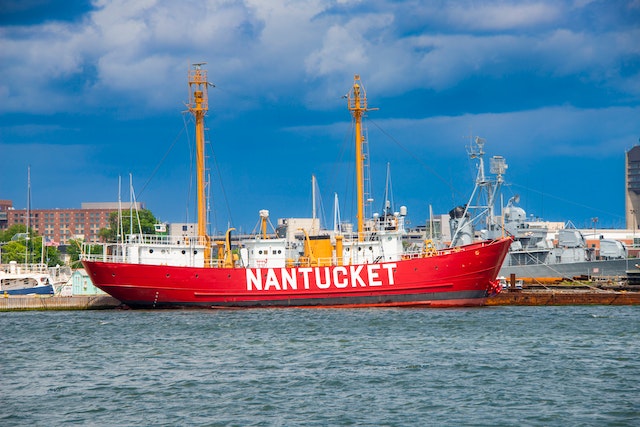 So, apart from the hundreds of historic buildings, lighthouses, and streets, this New England island also has some of the most stunning and untouched natural wildlife sanctuaries, accessible beaches, and picturesque hiking and walking trails.
Suppose you are planning on spending your family vacation on the island and have already bought ferry tickets and found a nice place to stay on Nantucket. In that case, you may want to start planning your itinerary for spending as much time outdoors as possible there.
Here are some outdoor spots to add to your Nantucket trip program.
Children's Beach 
Nantucket has some of the most beautiful beaches in the world, which are spread across 80 miles on all coasts of the island. Some are more popular than others. Some are quieter and more remote, and others attract fun and loud crowds of youngsters and adventurers.
Overall, there is a beach for every preference on the island of Nantucket.
Children's beach, however, is possibly the most popular one, especially for people who are vacationing with their young kids there.
It is on the north coast of the island, which borders the warmer, calmer, and shallower Nantucket Sound.
One of its biggest pros is that Children's Beach is in the Town of Nantucket itself, so you can easily reach it by foot or bike, especially if you are staying in a house or other accommodation there.
As its name suggests, this expansive beach is perfect for keeping both adults and children happy and content all day long.
It has a large playground with various components, suitable for children of all ages.
There is a grassy field, picnic tables, benches, a snack shack and restrooms, and many nearby cafes, restaurants, stores, and food trucks where you can enjoy some cooling drinks, local fresh seafood delicacies, and kid-friendly foods.
Sconset Bluff Walk
This walking path is a mere 1 mile long but is possibly one of the most picturesque and Insta-worthy walkways in New England.
The white shell-covered path passes through the postcard-like historic gray shingle-style cottages, which are covered by roses on trellises and surrounded by meticulously trimmed and blooming gardens behind white picket fences.
This walkway was created over 130 years ago and is the perfect and only way to get as close as possible to the high-class summer houses and cottages of the village of Siasconset and to enjoy some of the best ocean views along the way.
It passes through the local market and reaches the stunning buffs, or if you take the other turn, you can reach the east coast beach of Siasconset and the historic Sankaty Head Lighthouse.
Smith's Point 
Called "Smiths" by the locals, this Point is also referred to as "Esther's Island" after the Esther Hurricane in 1961, which cut it in two and formed an island.
Located on the westernmost point of Nantucket, Smith's Point consists of a stunning barrier beach that is 1.5 miles long and has two shorelines facing south to the Nantucket Sound and north to the Atlantic Ocean.
It is near the Madaket village and Madaket Beach, the best-known place to enjoy the mesmerizing view of the sunset in Nantucket.
Smith's Point is the perfect spot to enjoy some bird watching and to spot some wild animals and shore plants while enjoying the endless view of the Atlantic. 
If the day is clear, you can also see Tuckernuck Island from the Point.
Keep in mind that you can reach the Point via a 4WD vehicle with a special permit or by walking. Since there are no amenities on the beach and Point, it is recommended to pack some water, snacks, bug spray, sunscreen, and other stuff, especially if you plan to spend the whole day hiking, bird watching, or lounging on the beach.
Waiting until sunset is definitely worth it, given that you will be able to view the famed Madaket Sunset from there.
Bartlett Farm
This historic 100-acre farm has been run by the same Bartlett family for 7 generations and is the oldest and largest farm in Nantucket.
The historic family-owned farm grows organic veggies, fruits, potted and field-cut flowers and plants, and other produce that is used by most of the best eateries on the island.
You and your family can go on a tour through the farm fields, or you can shop for fresh and organic produce at The Market on the estate grounds. There is also a Garden Center where you can purchase potted or cut flowers and plants. Or you can enjoy a homemade delicious and healthy meal at the Farm Kitchen.
Even if you are not planning on visiting the farm itself, you can still buy vegetables, plants, fruits, flowers, and snacks from there at the Bartlett Farm vintage food truck parked on Main Street in town.
Or, you can order some delicious breakfast, lunch, dinner, cake, or catering from the farm's website.
Coskata-Coatue Wildlife Refuge
This is one of the biggest and most impressive wildlife refuges on the island, which is completely protected from development and is home to some rare shorebirds, wild animals, coastal trees, bushes, and other plants.
The Coskata-Coatue Wildlife Refuge is spread over two peninsulas which have an area of 395 acres. The peninsulas are the division point between the Atlantic Ocean and the Nantucket Sound.
The refuge is home to one of the most famous and gorgeous barrier beaches, the largest red cedar wood in New England, as well as the third and northernmost historic lighthouse in Nantucket – Great Point Lighthouse.
Since the refuge is further away from Town than most other conserved territories, you can rent a 4WD vehicle and obtain a beach driving permit to get there. Or, if you are ready for a 7.6-mile hike on soft sand, you can enjoy hiking or cycling there and gazing at the gorgeous ocean views on the way.