4th of July Apps for Android and iOS
This post is part of the Verizon Ambassador program #vzwbuzz. All opinions are my own.
My family has always enjoyed the 4th of July. From the food and drinks, to the company and fireworks.
This year we're planning in advance and finding some of the best apps out there to help make this 4th the best.
Fireworks Arcade

The first one I chose is strictly for fun (and relaxation). Make your own fireworks show by tapping the screen or play arcade games using the fireworks.
Fireworks Arcade is a fun-filled app for all ages, and a showcase app for multi-touch and graphics. Tap or drag to create brilliant displays of light and sound. Compete or relax in one of several game modes. Paint art with firework shapes. Or just watch a generated show. How you play is up to you, so get creative.
Weber's on the Grill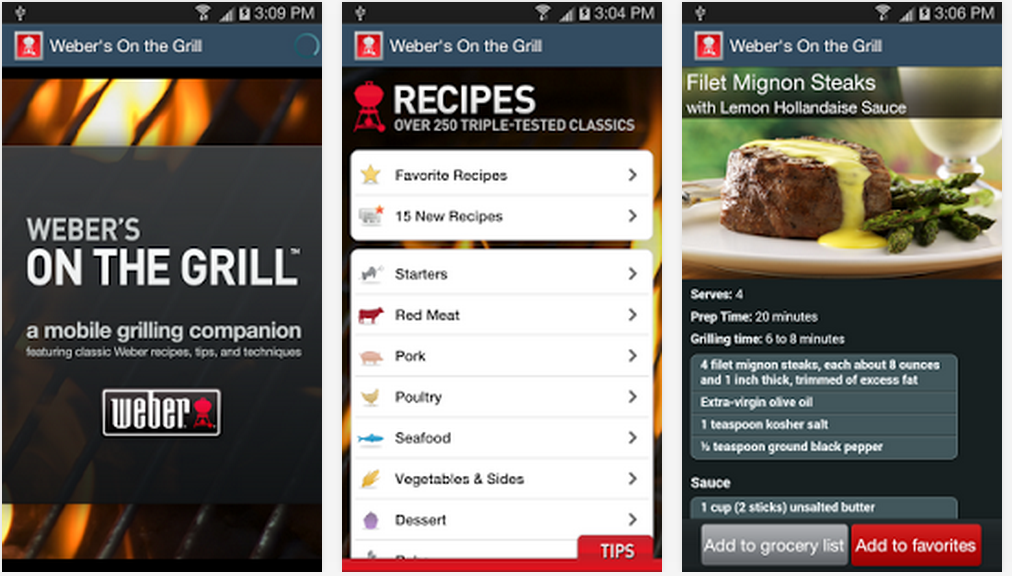 $4.99
Yes, I usually feature free apps but this one in particular has some great reviews. Grilling is a learned skill, and when you are a beginner you want all the help you can get. Pros will enjoy this as well with over 280 recipes to choose from.
Description
If you love to grill or barbecue, you are going to love this app! Weber's On the Grill™ features 280 classic Weber recipes plus 40 recipes for rubs, marinades, and sauces that are sure to get you fired up to get out and grill. You can tag your favorites, and even create and share a master grocery list for your grilling recipes that you can take with you to the store. There's a timer within the app, too, so you know exactly when to take your food off the grill.
WHAT'S INCLUDED
SEARCH AND BROWSE over 300 triple-tested, classic recipes from Weber's best-selling cookbooks, from starters to desserts, including rubs, marinades, and sauces. Recipes are from Weber's Art of the Grill™, Weber's Big Book of Grilling™, Weber's Charcoal Grilling™, and Weber's Real Grilling™.
STORE ingredients from any recipe in an itemized grocery list. To make shopping easy, the ingredients are organized by category to facilitate shopping. You can add as many recipes to the grocery list as you want, and the app will combine all the ingredients you will need at the store. A simple check box lets you mark off items as you shop.
SHARE recipes and grocery lists with friends and family via email.
REFERENCE 100+ tips for expert grilling.
LEARN essential grilling techniques for taking your skills to the next level.
WATCH short instructional grilling videos by celebrity chef and cookbook author Jamie Purviance. TAG your favorite recipes and techniques for future reference.
TIME recipes with the grill timer, right in the app. Your phone or device will ding and vibrate when the timer goes off. CHECK grilling times in our grill guides for red meat, pork, poultry, seafood, veggies, and fruit. Produced by rabble+rouser, inc. Photography by Tim Turner
Fast Burst Camera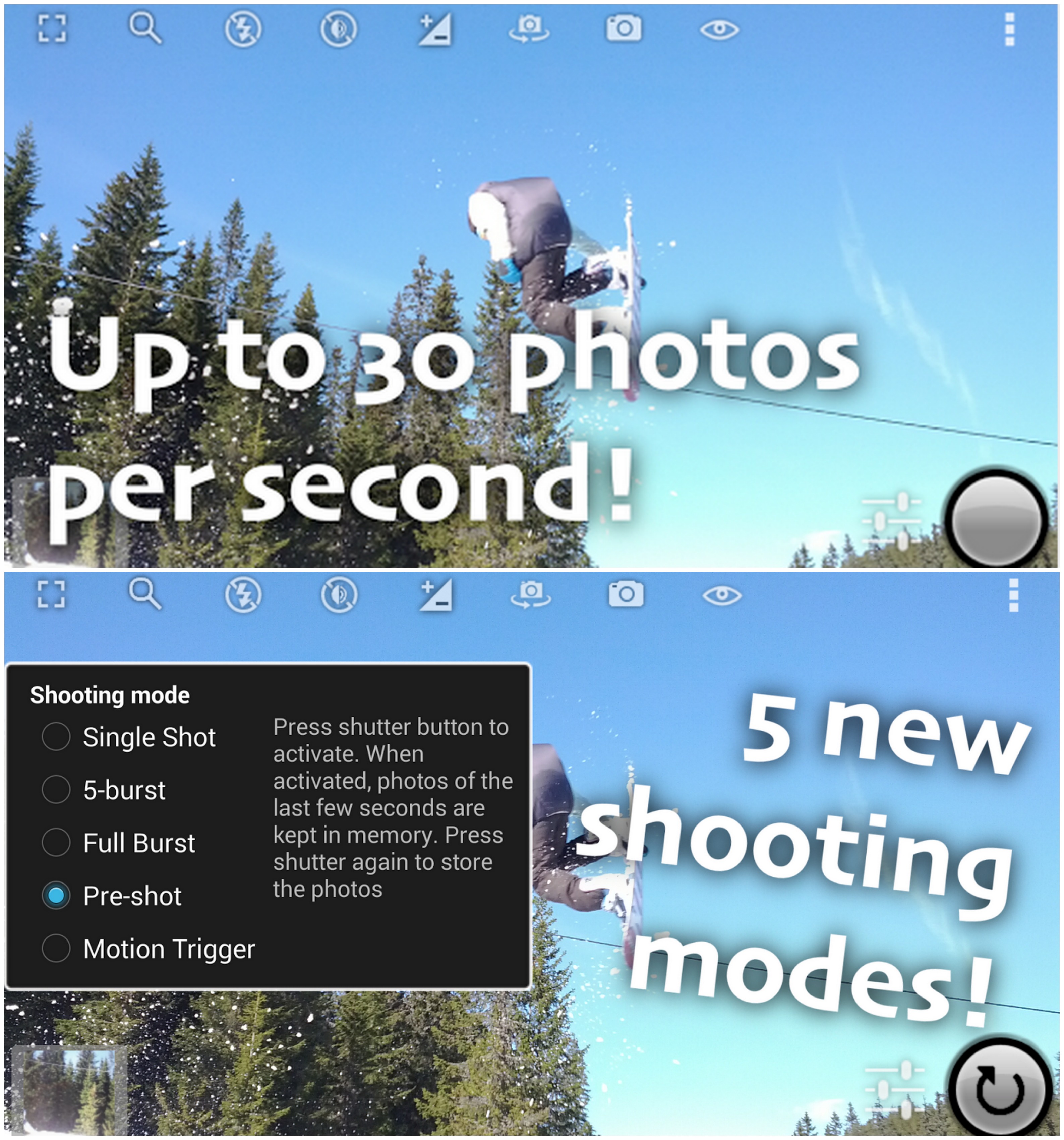 $3.99 (free version available but there are complaints about ads lagging shooting ability)
I have spent many years trying to capture fireworks in pictures… usually it ends in disappointment. This app allows your smart phone camera to take multiple pictures quickly giving you the ability to freeze action… like fireworks.
This is the fastest camera app available for Android.
Fast Burst Camera is capable of taking 30 photos per second.
( on low-end devices, 5-10 photos per second is possible )
Hold shoot button for continuous burst, or tap for fast single shots.
Zero shutter lag – pictures are taken as soon as shutter button is pressed.
★ Supports flash, focus and zoom. Shutter sound can be turned of.
★ Shoot modes
– Single shot
– Full Burst
– Pre-shot
– Motion trigger
★ Built-in editor
– Add filters, frames, text and more
– Adjust brigthess and colours
– Create animated GIFS and collages
★ Great for
– sports shots
– pictures of kids or pets
– party camera
– taking a burst of pictures in an important situation, and pick the best later
– analyse your golf swing frame-by-frame
– Parkour shots
Superburst Camera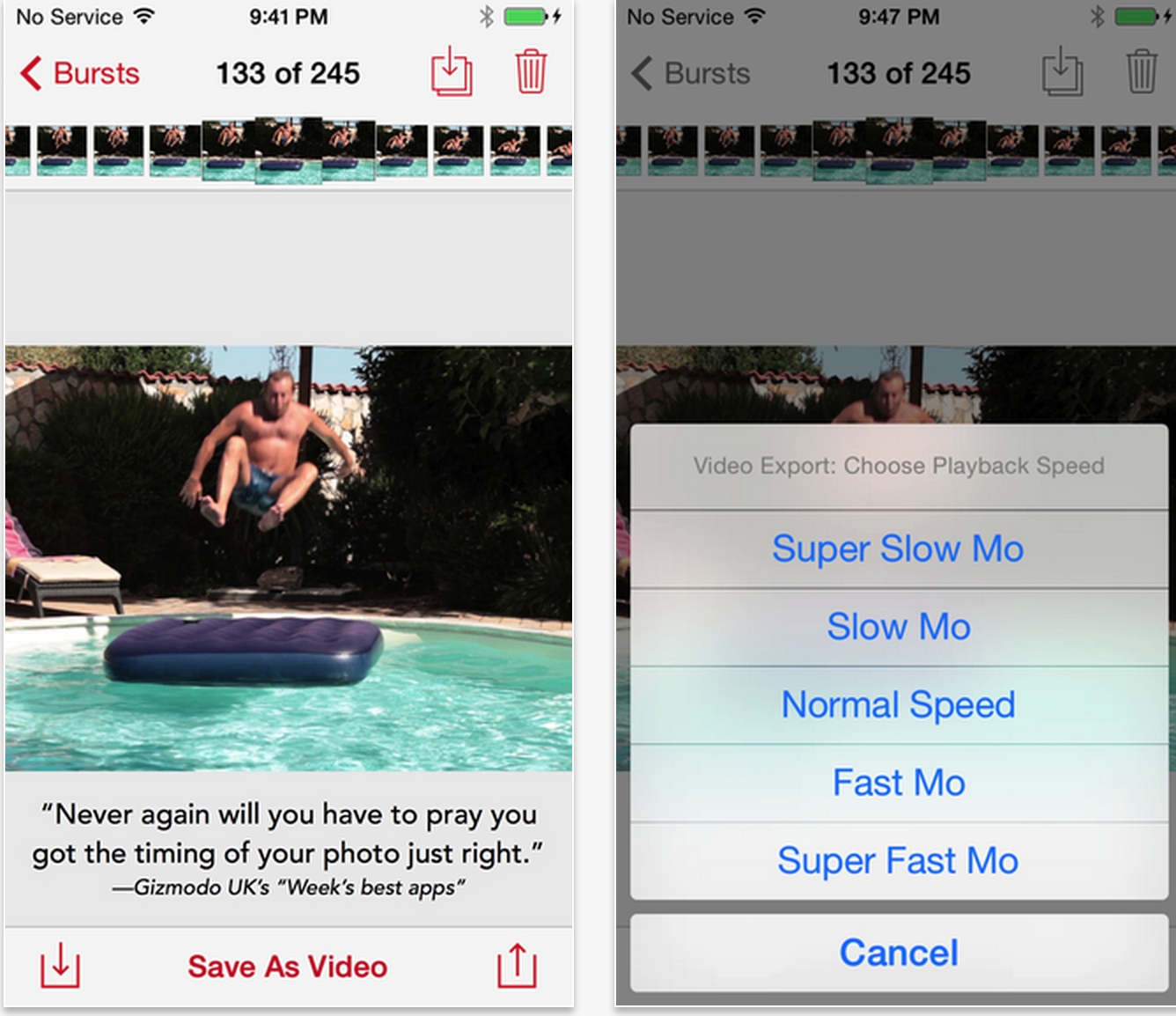 $1.99
I wish I had an iPhone to test this app because it looks amazing. I love taking burst shots with my DSLR and with this app not only can you choose the best photo but also make them into video!
Tap the shutter button to start continuously snapping photos at blistering speed—up to 240 photos per second on iPhone 6 and 6 Plus, 120 photos per second on iPhone 5s and iPad Air 2, 60 per second on iPhone 5, 5c, iPod Touch, iPad Air, iPad Mini with Retina, and 30 per second on the other iPads plus the iPhone 4s.
Take as many bursts as you want, and when you're done, pick the shots you want to keep and save them to your Photos Library or share them with friends.
You can even save your burst as a video—slow-mo, fast-mo, or regular speed.
Yummly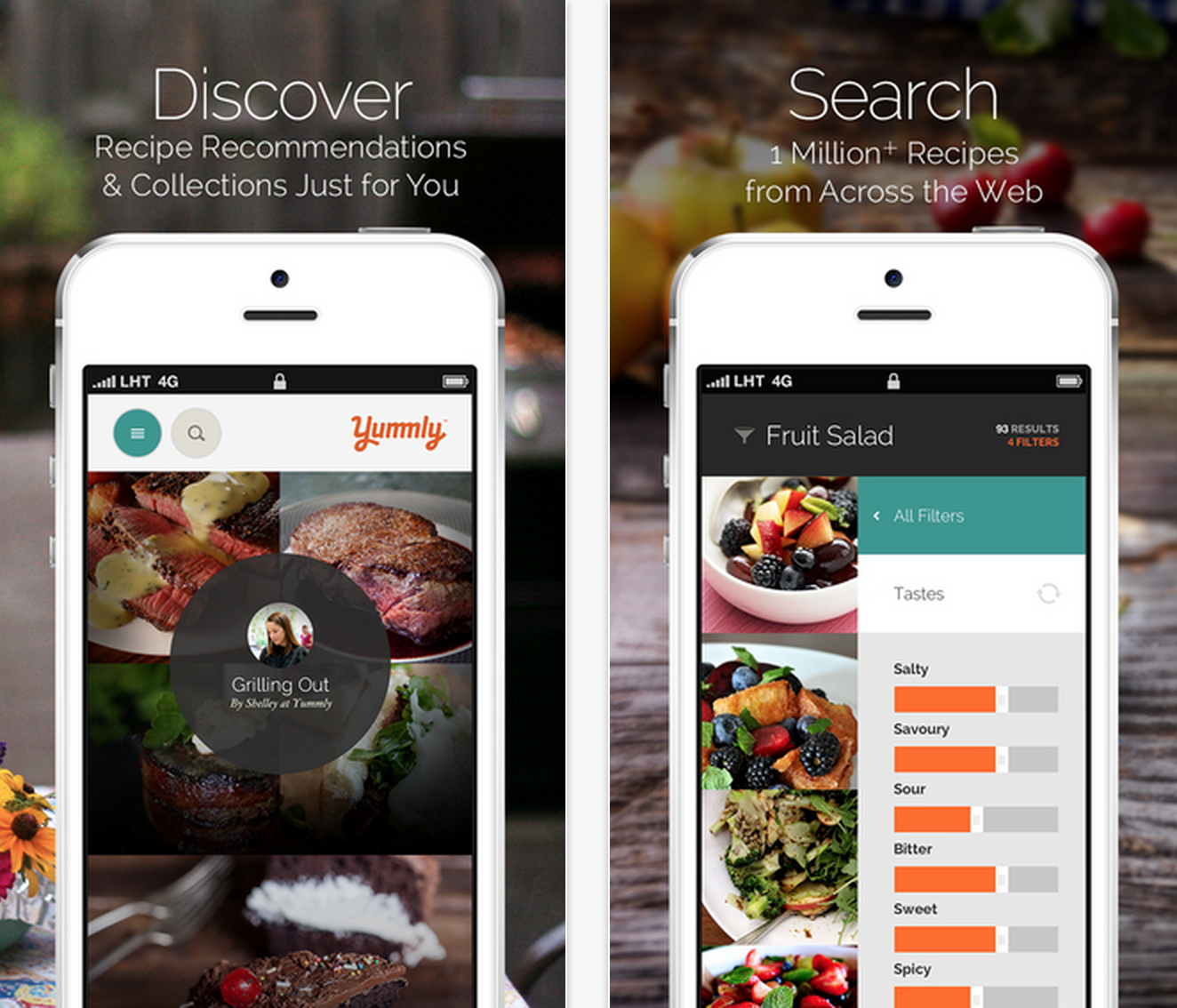 Free
Looking for a new fruit recipe or a pasta or potato salad? You can find just about any recipe you're looking for on Yummly.
Featured on the Today Show and LOVED by millions, Yummly puts every recipe in the world in the palm of your hand. The most powerful recipe search, the recipe sites you love, your digital recipe box, and food recipe recommendations just for you – all with you wherever you go. Experience what millions of home and professional chefs are already enjoying on the web, now free on your Android phone and tablet.
Cocktail Flow

Free
I love to offer cocktails, but I have no idea how to mix them. This app helps create your shopping list and then tells you how to mix them.
Loved by millions of users worldwide, Cocktail Flow is the ultimate tool to find & create the perfect drink for any occasion. Discover what you can mix with the ingredients you have at hand, get the know-how to easily make amazing drinks and make any moment a Cocktail Moment.
• 600+ uniquely designed cocktail & smoothie recipes
• 100+ inspiring drink categories & themed collections
• MyBar: your personal tool that shows the drinks you can mix with your ingredients
• eye-catchy design & the smoothest user experience
Uber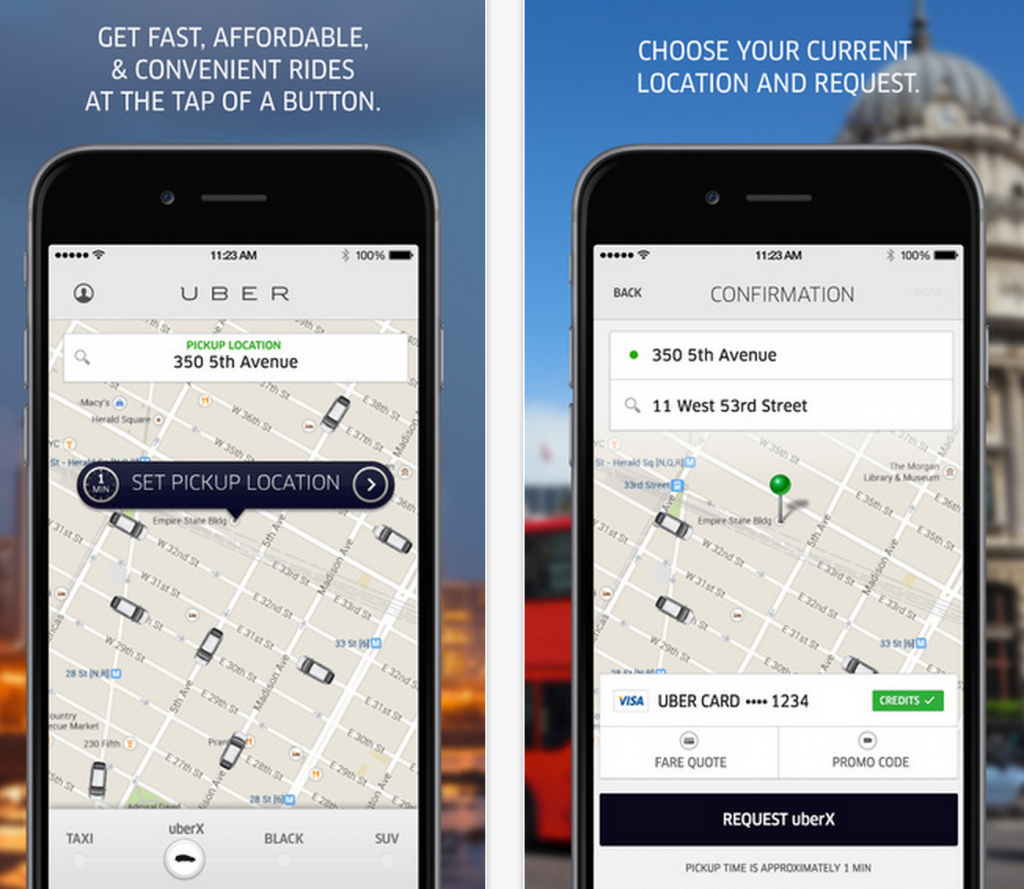 Free
Did you enjoy a few too many cocktails? Check out Uber. On-demand, typically small wait times and nicer cars than the typical taxi.
Uber is your private driver in more than 50 countries.
– Request a ride using the app and get picked up within minutes. On-demand service means no reservations required and no waiting in taxi lines.
– Compare rates for different vehicles and get fare quotes in the app. Use PayPal or add a credit card to your secure account so you never need cash on hand.
– Set your pickup location and final destination for an easy trip. Get connected to your personal driver and check the progress of your Uber at any time.
– Sit back, relax, and go anywhere you want. We'll email you a receipt when you arrive at your destination.
Do you have a favorite app that can help out during Independence Day celebrations? Share it!