3 Ways to Make Home Improvement Fun for the Whole Family
Home improvement is one of the most enjoyable aspects of being a homeowner. It allows you to take your home to practically whatever level you'd like to, providing you have the budget and inclination to do so, and serves as an excellent outlet for creativity. What many people don't realize is that home improvement activities can actually be fun for the whole family. Your kids can help out and not only feel as if they're contributing, but also learn a few valuable lessons in the meantime.
Instead of outsourcing your next basic home improvement project to a contractor, consider getting the whole family involved with the help of these 3 tips…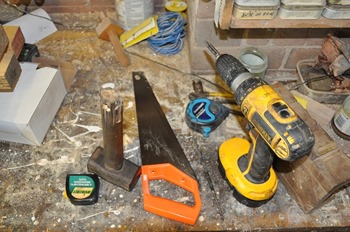 Take a Communal Approach to Planning
Most home improvement projects come as a result of a bright idea on behalf of whomever cares the most about the appearance of the household. Instead of calling all the shots, you can have a lot of fun by letting your family weigh in on what they feel needs touching up the most. They'll be far more likely to go along with helping out on a project if they had an influence on getting things off the ground to begin with, which can go a long way during frustrating, tedious home improvements. Start with a small project, such as improving your living room by upgrading your light fixtures or installing new custom blinds. Your kids can help you with these projects, but anything more "heavy duty" might pose a safety hazard.
Part of the planning process might include creating additional space on your property by getting rid of some things. For example, if you have old scraps sitting in your yard, you can recycle them. Also, if you have an old boat that you never use, you could donate it to charity . The best thing about a boat donation is that you will receive a tax deduction in exchange for your generosity. Although your kids won't care about that part of it, the tax credit that you will receive will make it easy for you to afford these renovations.
Go On a Family Shopping Trip
Sometimes a great deal of the fun of doing home improvements comes in the form of shopping for materials. Once you've determined everything you're going to need in order to handle a specific project, you might want to consider bringing your family along with you on your shopping trip and dividing up responsibilities. Your family can learn a lot just by being along to see which materials are needed for the job. Whether you're, shopping for the right gauge screw or simply browsing the aisles for ideas, the whole family can have a fun experience at your local home improvement store.
Buy Special Tools for Your Kids
Chances are your kids are going to be excited about getting involved in your next home improvement project. Because tools meant for adults are often not suitable for use by children, it can be difficult to safely allow them to help out. The fact is, you can buy real tools that are specifically designed for kids, which will not only allow them to have fun and feel involved in the project, but will also teach them valuable skills that will become a great help later on in life.
For older kids that are just shy of being at the age when they can use traditional tools, you might want to look into scaled-down versions that are available either in kits or as individual pieces.
Home improvements need to be done at times, and are often more fun than they are hard work. Perhaps best of all–they can be used as ways to pull your family closer together.