Can you believe it's Holiday Gift time again? This year has just flown by here at the OurKidsMom house!
I've spent quite a bit of time surfing the web looking for some of the coolest gifts for our loved ones this year. I've found quite a few great ones that I am excited to share with you!
I will be adding as products are confirmed, so feel free to drop in occasionally to look for updates.
btw…
Happy Holidays from the OurKidsMom family!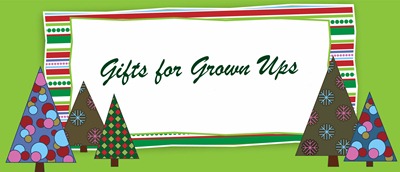 RV $179.99

Small Wonders Palm Camcorder

RV $32.99 for a 2 pack

Luxurious Comfort Memory Foam Bath Mat

Giveaway ends 12/22

RV $109.99

Choice of complete bedding set from baby/toddler/kids/teen section

 



     





RV $59.95



RV $14.99 & $9.99

Snowman Illumination Candle Warmer, Plug In warmer and wax melts

RV $37.37

Kidz-Med VeraTemp non-contact Thermometer







RV $99.99


Jack LaLanne's Power Juicer

RV $169.00


Primo Bottom Loading Water Dispenser

RV $20 each

  

Reija Eden Jewelry

Giveaway ends 1/2/12

 
 

RV $38.00

BUY IT!

The Vintage Pearl

RV $47.50



BUY IT!

Mod Straps Designer Camera Straps

Review & Giveaway 

Giveaway ends 12/22

 
 
 
 
 
 
 




RV $39.99

BUY IT!

Cupcake Kitchen



RV $34.99

Lalaloopsy Cury Hair

RV $34.99

Moxie Girlz Riding Club Horse

Giveaway ends 12/23

RV $39.99

Baby Born Dance with me Baby

RV $59.99

Fur Real Friends Cookie Puppy

RV $154.99

Disney Princess Total Fairy Tale Castle






RV $14.99

LITE BRITE LED Flat Screen

RV $149.99

Chuggington Wooden Railway Calley's Rescue Set

Giveaway ends 12/23

RV $39.99

Tikes Tough Workshop




RV $79.99

Disney Sing And Storytelling Belle

Giveaway ends 1/9/12

RV $28.00

BUY IT!

$20 gc

RV $34.99

Tonka Chuck & Friends Flip the Bounce back Racer Vehicle

Giveaway ends 12/27






 

RV $99.99

Little Tikes Gourmet Prep n Serve Kitchen

Game: $19.99 Plush: $19.99

Pillow Pets for DS & a stuffed Pillow Pets

RV $129.99

 
Lifestyle Legacy Kitchen

Giveaway ends 1/5

 
 


 

RV $99.99

Home Depot Big Builders Workshop Playset

Giveaway ends 12/30 


RV $79.99

YBike Glider

Giveaway ends 12/21

RV $24.99

Colorforms Magic Fashion Show

 
 

RV $39.99

Easy Bake Ultimate Oven