Cruise partially funded by NCL. All opinions remain my own.
Taking an Alaskan cruise is all about the scenery, right?
It was for me!
But there are times when you are out in open seas. Although blue water and open skies are beautiful to behold, you will probably find yourself looking for a few things to do to occupy your time during your voyage to the Next Frontier.
Thankfully Norwegian Cruise Lines has your covered!
The Norwegian Pearl offers multiple activities, from active to passive, to please just about everyone.
1) Visit the pools!
Early June can get a bit nippy on deck, so if you are looking forward to a little pool time do so the very first day and last day of your cruise. The further north you travel, obviously the weather will change. A few children seemed to have a higher tolerance to the chill than I did and swam almost the entire trip, but again that is just a few.
That being said, I did see people in the 4 hot tubs on the pool deck every single day of the cruise. Just be prepared to wrap up in a towel rather quickly as it can be a bit brutal, especially on windy days.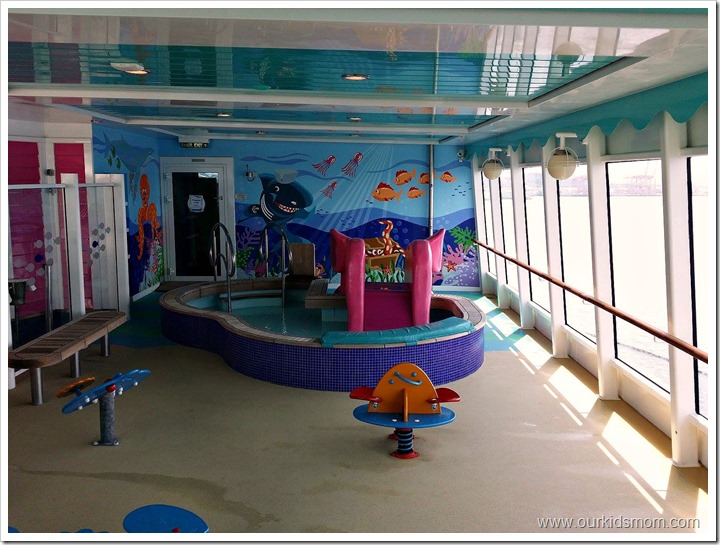 The pool area above is surrounded with glass walls helping break the chilly wind. I didn't think to ask if the water was heated, but this area seemed to be a great spot for the littles at least the first and last day of the cruise.
The pool area below was found on an upper sun deck. These areas weren't utilized nearly as much as I've seen on Caribbean cruises and I can imagine it might get a little nippy. BUT, it's worth a visit! You might get lucky with a warm, sunny, low wind day.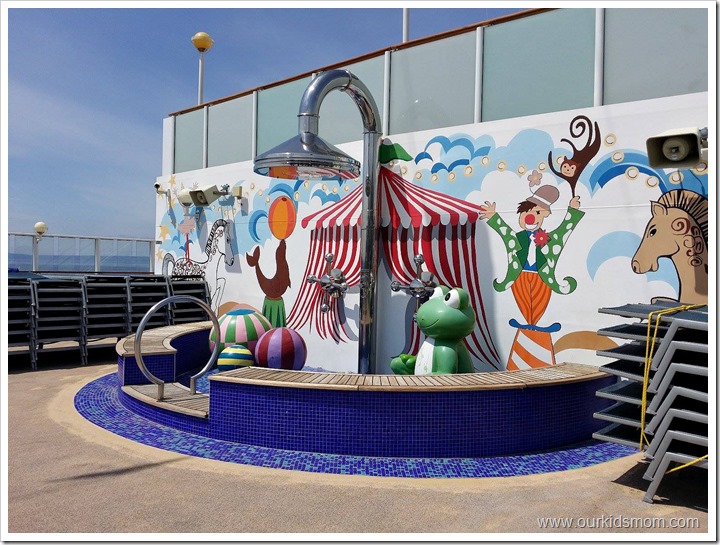 2. Join a game of basketball, soccer, volleyball or dodge ball!
Most of the time the sports court is open for general use. Watch the Freestyle Daily (the ships daily newsletter) for schedules as occasionally the kids clubs will be scheduled for a "takeover" like the one below.
If you aren't into playing, maybe come down and root the kids on!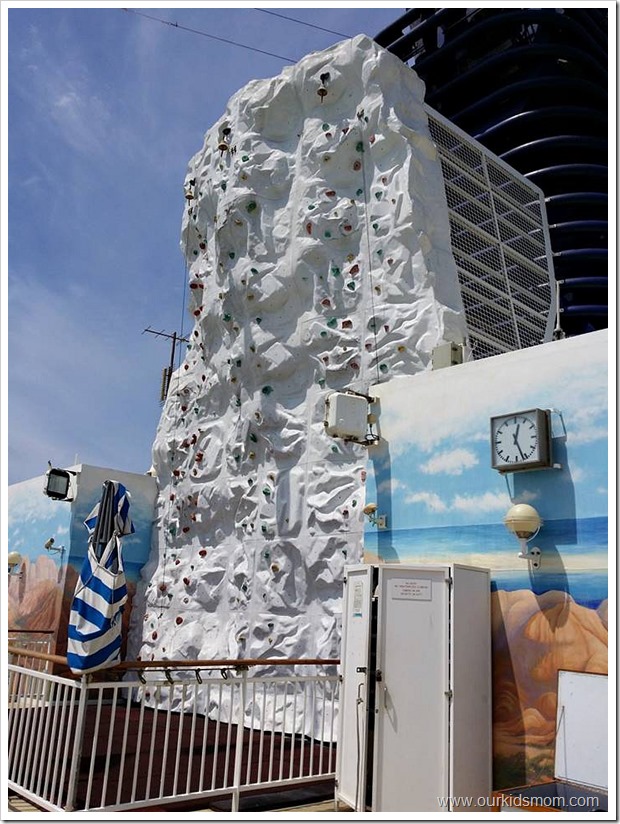 3. Go scale a rock wall!
Watch the Freestyle Daily for times as the Rock Wall is not open 24/7. There is generally a decent line for this attraction, but it moves rather quickly and my husband said it was worth the wait (he did twice)!
The wall offers easy, medium and hard climbing courses and I had a great time cheering on several littles trying their hand at getting to the top and ringing the bell.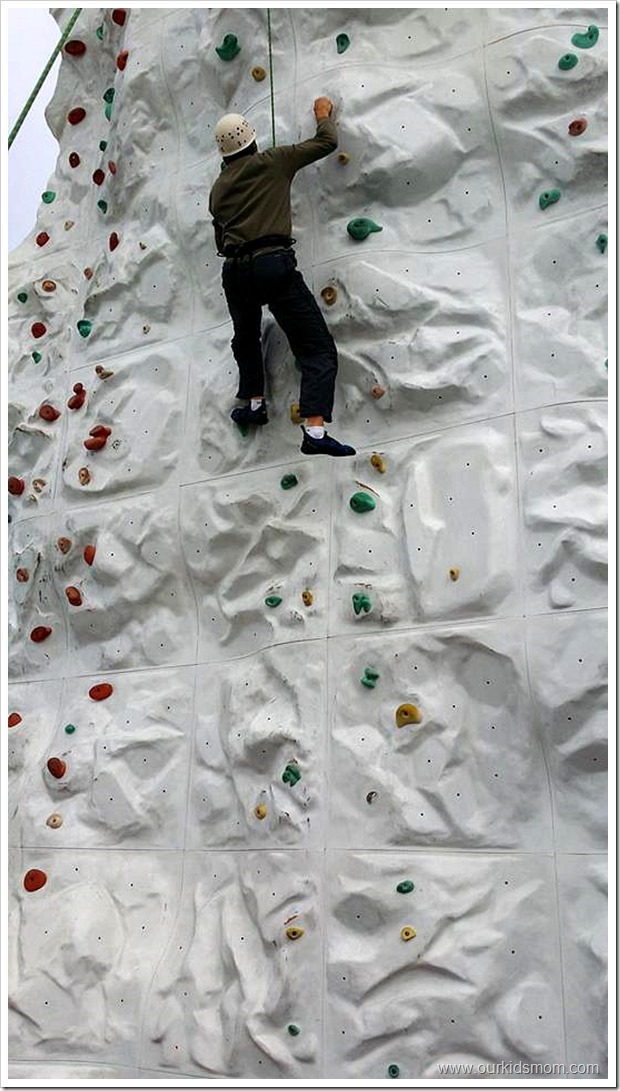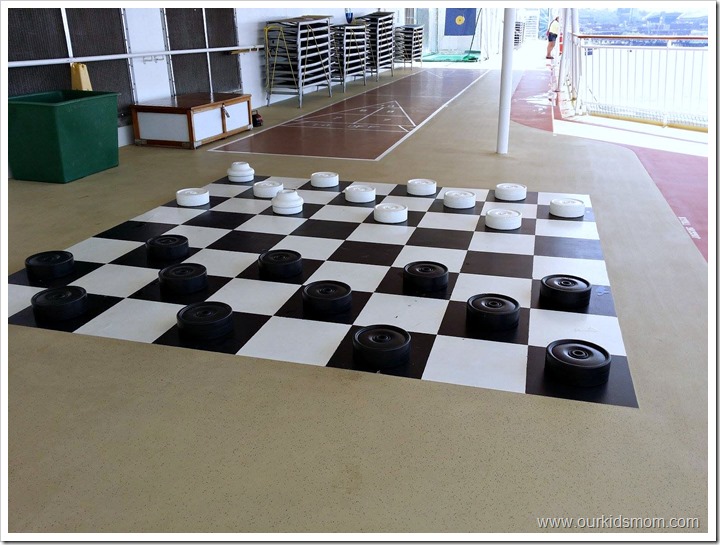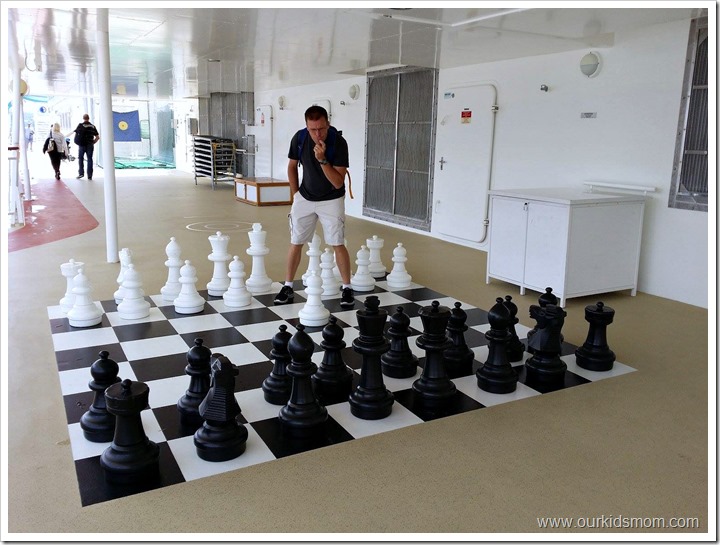 4. Start a game of outdoor checkers or chess!
These larger than life game boards get your mind and your body moving as well. These areas seemed fairly popular and I heard fun competitive banter coming from those areas more than once or twice.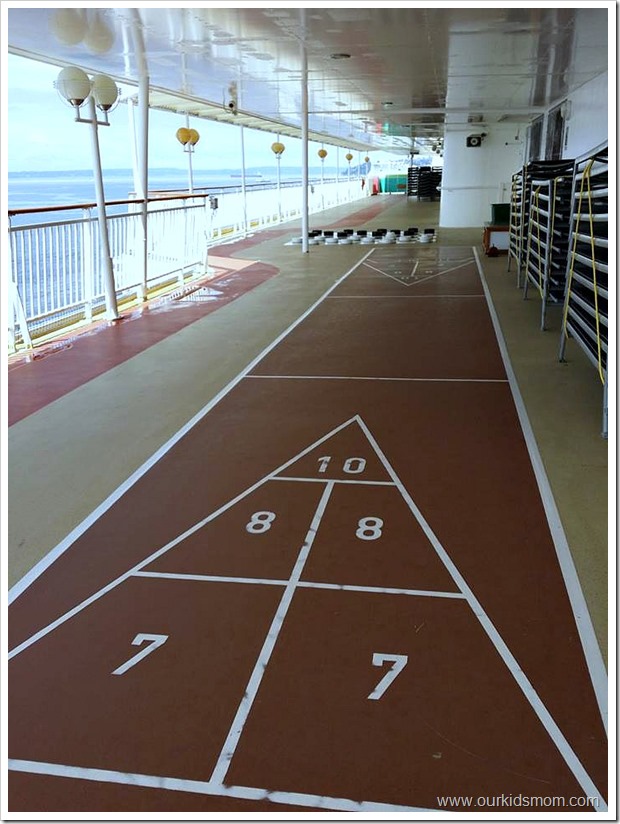 5. Shuffleboard anyone?
Again, this was a fairly popular area and a great place to sneak off for some quality time with your loved ones &/or friends.
6. Play Table Tennis / Ping Pong!
I haven't picked up a paddle since I was a tween, but the young adults seemed to really like this area on the ship. It is right off the side of the pool area and offers great views behind glass (fabulous win breakers).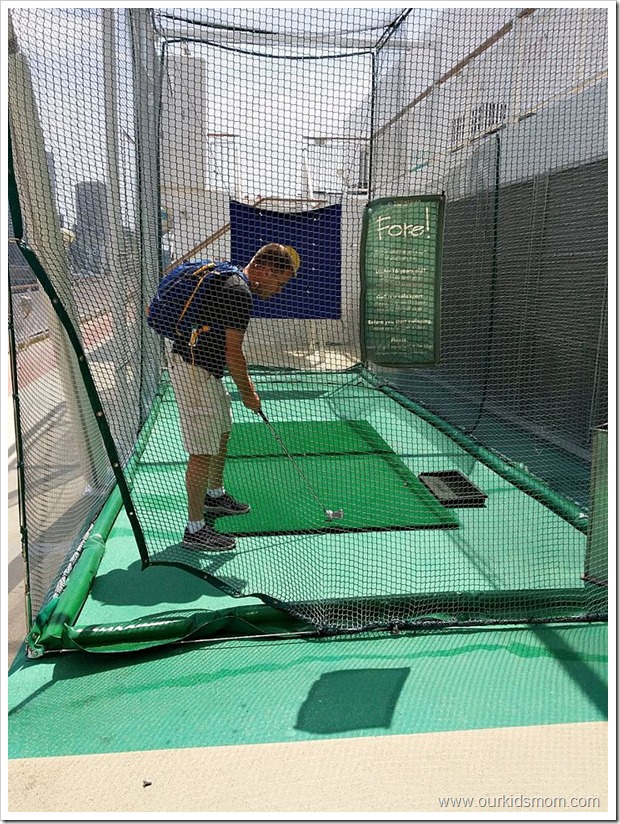 7. Work on your swing!
You didn't bring your clubs on? No worries, clubs and balls are provided. Work on your swing while you are soaking up the scenery.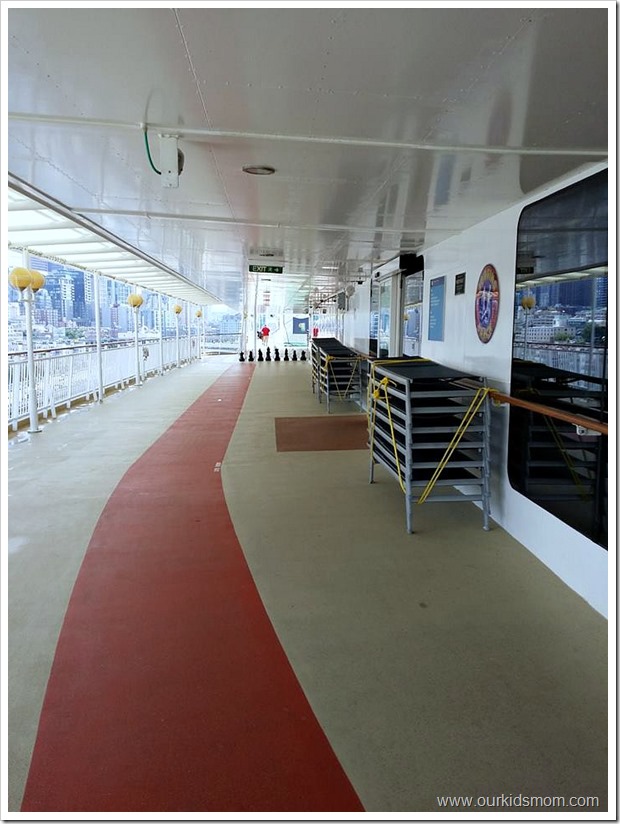 8. Go for a RUN!
The designated jogging trail runs circles around the outdoor activity area (basketball, rock wall, golf etc.).
My husband is a distance runner and likes to get out almost daily. He went for a run on this track and mentioned that it was somewhat congested with several walkers and "scenery gawkers" that weren't aware they were in the middle of a jogging track.
My husband took his run down to the life boat deck (I believe he said deck 8) and said it was much more open and there were several other runners there as well. So there you have a little known secret! 😉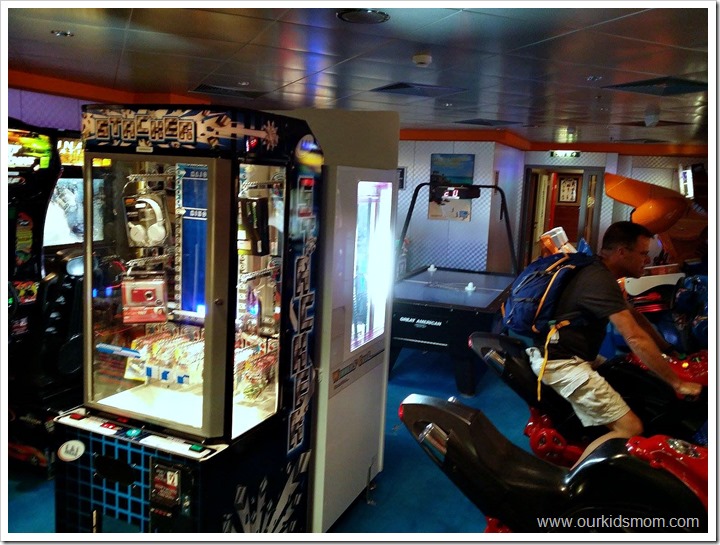 9. Video Games anyone?
Yep, you can play arcade style video games even on a cruise ship. Although small, this room packs in several popular games. The games do come at an extra charge but are reasonably priced.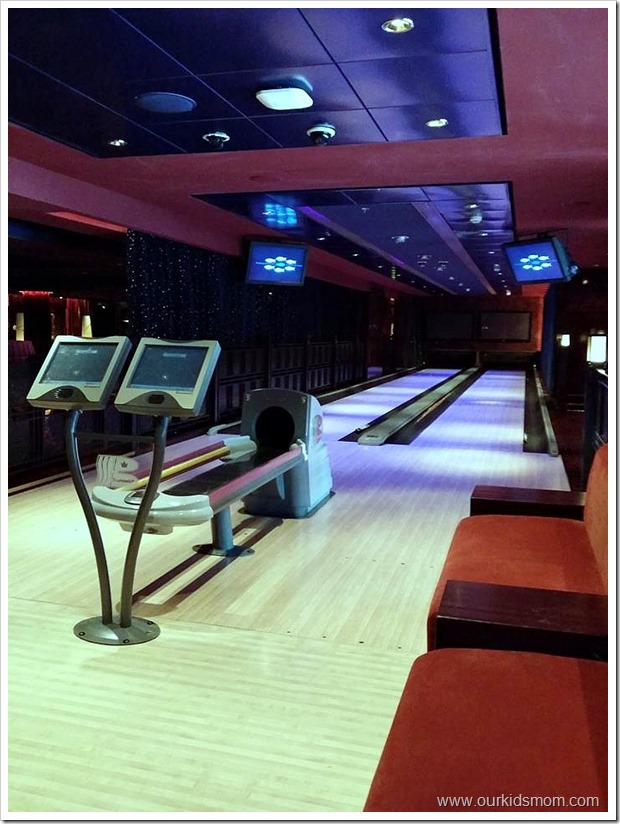 10. Yep! That's a bowling ally!
The Bliss Lounge houses 4 lanes of open bowling available for a nominal extra cost. Not your typical everyday cruise activity and fun to play while at sea (imagine a rocking boat and a rolling ball… fun right? 🙂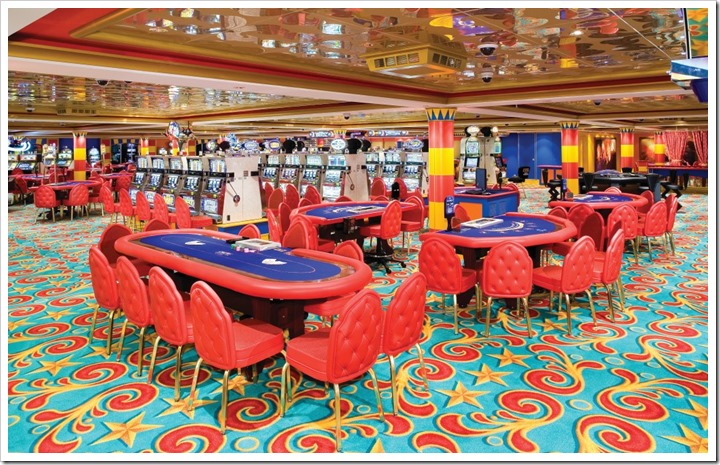 11. Make a "donation" at the Casino, play Bingo or play Deal or No Deal.
The Pearl has a large public casino offering several gaming options from slots to tables. We walked through this area several times during our cruise and everyone seemed to be having a great time. My husband even saw a gentleman win $5,000 on a slot machine!
The main casino is a smoke friendly area. If you prefer smoke free, the Bliss Lounge has a small slot machine area with a great atmosphere.
Bingo is offered several times during the cruise as well as a game of Deal or No Deal.
All of these activities come at an extra charge with the chance to win large amounts of money or even a 7 night cruise for two!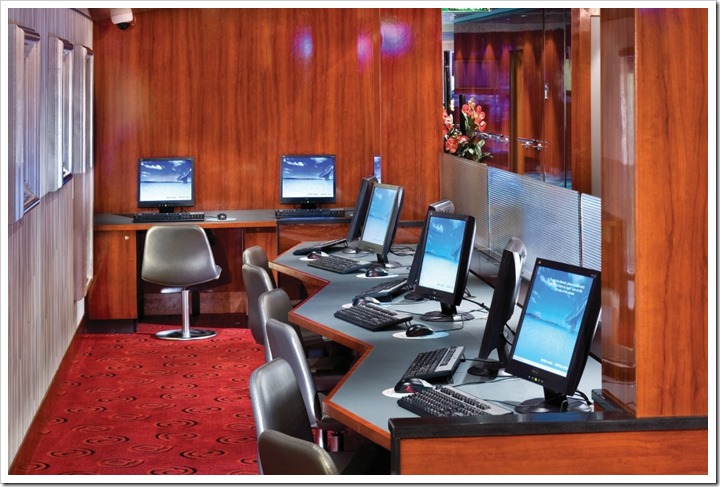 12. Visit the Computer Lab.
If you didn't bring a computer on board and you feel the need to surf the net, the computer lab is available 24/7. Price per minute depends on the package you purchase. Be sure to stop by when you get on board as there was an embarkation special that gave a price break on the packages the first day.
Remember that this is satellite internet so it will not be running as quickly as your cable internet at home, but not as slowly as the old dial up modems did.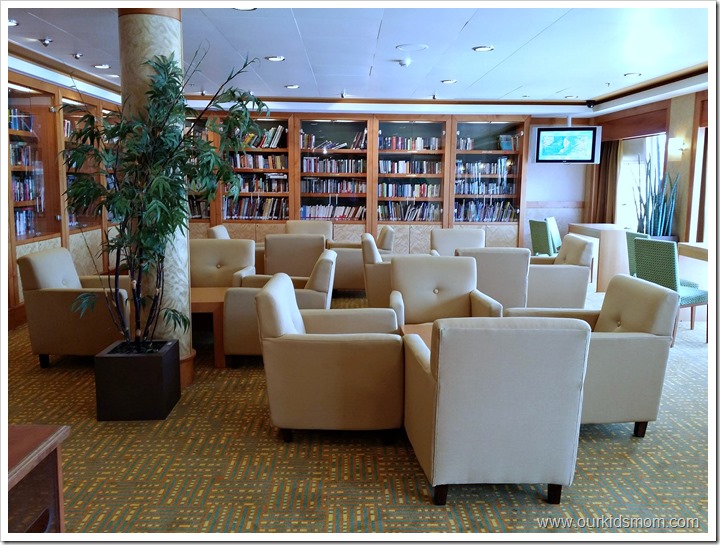 13. Visit the Library or Game Room!
The library is always open to relax in, but if you are interested in checking out/reading the books on the shelves check the Freestyle Daily for attendant times. On our cruise she was there in the evenings to open the cases and assist patrons.
The game room is just about as large as the library and is full of tables and stacks of board games like Scrabble, Checkers and Uno. We walked by this room several times and noticed many tables being used.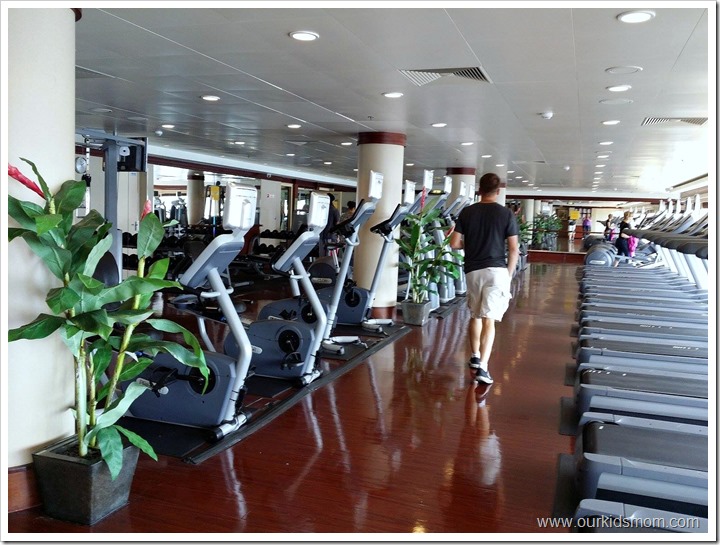 14. Work it OFF!
Did you eat a little too much last night or just feel the need to get moving? The Fitness Center is open 6am to 11pm and offers an entire row of treadmills, several stationary bikes, free weights and an aerobics room. They offer spinning, aerobics and other fitness classes free of charge.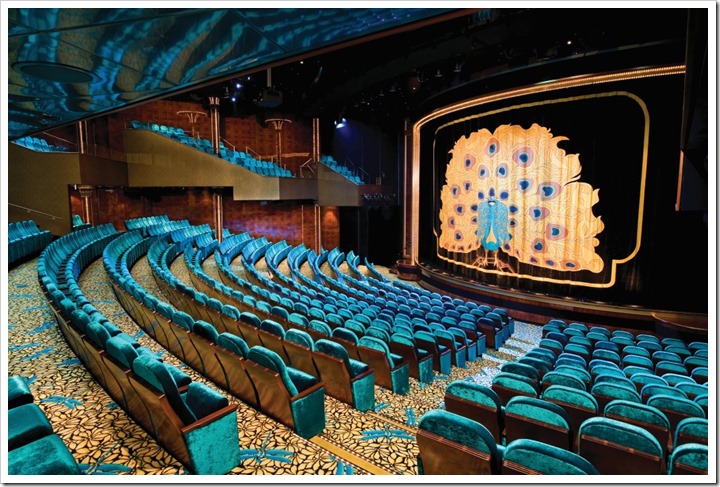 15. Take in a Show!
Whether at the Stardust Theater watching feature programs like comedian Bud Anderson, the improv group Second City or a musical like Encore! Stardust shows offer a wide variety of entertainment for everyone.
Looking for a smaller crowd? Check out the Atrium for relaxing background music or Bar City for a comedy piano show. We enjoyed the piano man so much we went back several times!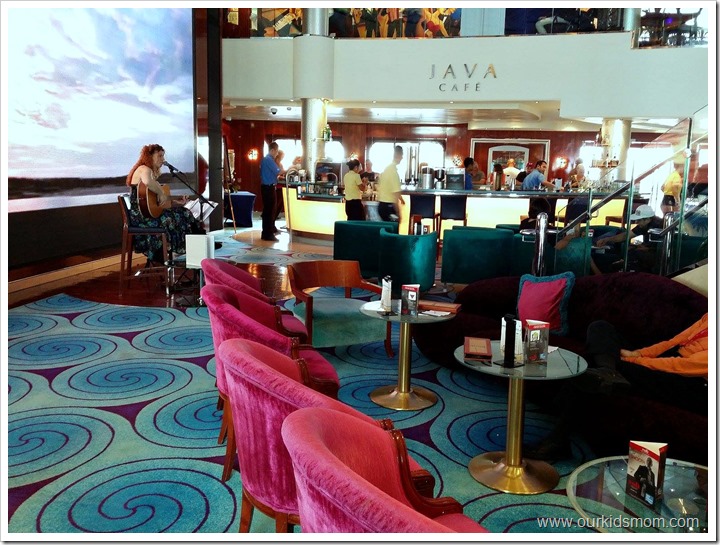 I could literally go on and on about what we did to pass the time. This is just the tip of the iceberg (get what I did here?), but enough to give you a good sense of how much fun you can have on a Norwegian Cruise Line cruise wherever you may be sailing to.
Whether you choose to sit back, relax and take in the views or keep yourself busy Norwegian Cruise Line has what you are looking for!
My husband and I planned both active times (through the Freestyle Daily schedule) like dancing the night away at Norwegian's Night out and down time where we soaked up the scenery or just relaxed while listening to music at Bar City.
To view all of your activity and entertainment options please visit the NCL website.