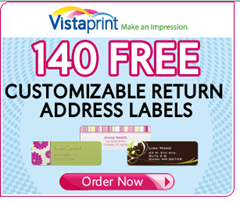 I've been meaning to order some labels for a while now… I'm glad I procrastinated!
For 4 DAYS ONLY, get 140 FREE customized return address labels from Vistaprint.
Don't need address labels? Think BACK TO SCHOOL!
Have them printed with just your child's name on them, or their name and phone number.
Label all their things so you won't have to replace them once a month

.