Now that my nursing days are over, I sometimes look back on them with yearning. I loved the bonding and special alone time with all four of my babies.
Someone asked me once how long I had breastfed my children. It actually surprised me when I added it up… I have spent 46 months of my life, nearly 4 years, breastfeeding my four babies! Having resources on hand like Love Majka to help reserach issues with milk supply make it even easier to get through the rough times. 
Crazy and amazing at the same time.
Here are 10 Items for Successful Breastfeeding that helped make my journey a breeze each time.
1) Nursing pillow
Nursing a baby requires countless hours of sitting, cuddling and nurturing. Comfort is a requirement. I tried getting by with pillows from the couch, but although they work in a pinch… a custom nursing pillow really is a must.
I preferred a pillow like Dr Brown's Gia Nursing Pillow.
Some moms prefer a wrap-around pillow like Boppy or My Brest Friend.
2) Breast Pump
I used a breast pump from the minute I got home until the end of my journey. It helped increase my milk supply: I had milk to mix into their cereal when they began solids, I had a stash for date nights and I had a stash for when/if they decided to wean early like my Kaytlin did at 6 months.
My favorite is no longer on the market, but the Lansinoh Affinity Pro Double Electric Breast Pump is their newer model. My Lansinoh was less expensive than most and did the job quite well for me.
I have friends who swear by the Philips Avent Double Electric Comfort Breast Pump or any of the Medela double pumps. I was told by my lactation consultant that most double pumps will do the trick.
3) Bottles
Yes, I said bottles. Yes, I know you want to breastfeed. I didn't introduce bottles to my babies until around 3 or 4 months. My frozen milk helped me out on a few occasions. If you get sick and have to take a medication that requires you to pump and dump, you will have a bottle to feed your stored milk to baby. I also used bottles for date nights.
My favorites were the Philips Avent Natural Bottles.
4) Nursing Cover Ups
All four of my children liked to grab my cover up and try to yank it off. Using a regular blanket would leave me exposed and embarrassed.
Cover ups like the My Brest Friend provide the coverage you want but stay in place when yanked. They also are made so that you can keep an eye on baby if wanted.
Walmart also carries the LeachCo and Boppy cover ups.
5) Nursing Pads
Fortunately I did not have issues producing milk. On occasion, my overabundance caused a bit of embarrassment for me.
I always wore the Lansinoh Disposable Breast Pads because they were comfortable, affordable, stayed in place, and absorbed what I need to be absorbed.
Some of my friends liked the Phillips Avent or Dr. Brown's Washable Nursing Pads as well.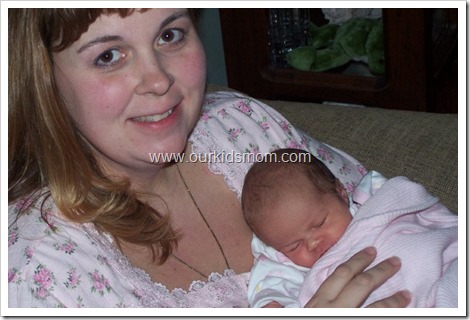 6) Lanolin Cream
Lanolin cream was introduced to me with my first baby. I was having terrible cracking issues. It was soothing and healing. I was on the edge of giving up and it pulled me through.
My favorite was the Lansinoh Lanonlin Cream.
I have friends that swear by the Medela & Dr. Brown's Lanolin as well.
7) Nursing Stool
Back to comfort… putting your feet up while nursing is almost a must. It puts you in a better sitting position to relax, which helps you let down. I didn't have one for my first two and wondered how on earth I got by without it when given one with my last two.
The KidKraft Adjustable Nursing Stool not only looks nice, but functions very well.
8) Nursing Bras
Unfortunately for me, my girls grew quite a bit after I had my babies. Support was mandatory. I tried to nurse with a regular bra, and although I could get by and function at home, being discrete while out in public was not possible. Nursing bras function just like normal bras, but have a nice flap in front for easy access.
The Medela Sleep Bra kept me from making a mess in bed (insert the nursing pads mentioned above) but yet was non-restrictive and easy to sleep in. I went for underwire during the day for support.
9) Burp Cloths
There was no way around the fact that all of my babies would spit up, a little or a lot, when burped.
I preferred the Gerber Prefolded Cloth Diaper Burp Cloths because they were absorbent and cute.
10) Pacifiers
I know, I know… you are worried about nipple confusion. I was too, until my first born tried to use me for a pacifier. Seriously, I was being sucked on day and night for weeks.
The Nuk saved me from this fate. I introduced this pacifier to the rest of my babies in the hospital without nipple confusion issues.
Many of my friends although swear by the Philips Avent Soothie. I say find one your baby will take and use it. Your nipples will thank you later.
Walmart.com has a huge selection of baby feeding items for all stages!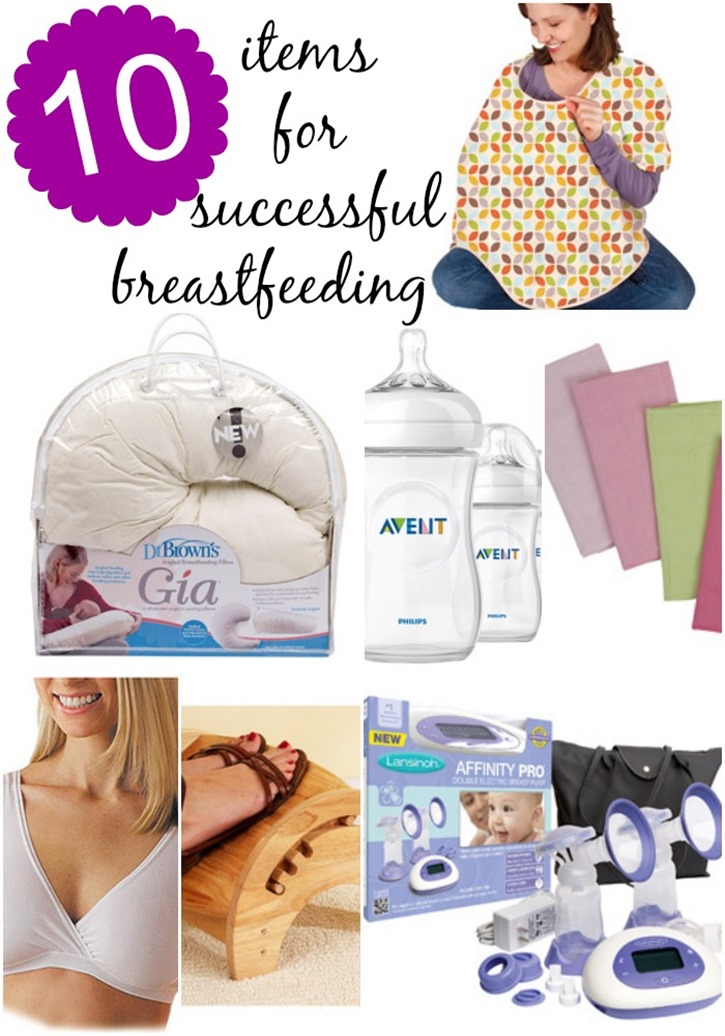 Did I miss an item that helped you breastfeed? Please share!