Having a pet helps to keep depression and loneliness at bay while allowing you to enjoy a wide range of health benefits. But, on the other hand, it also means balls of pet hair on the upholstery, dirt marks on the floor, urine stains on the carpet, and droppings or feathers in the most unusual of places.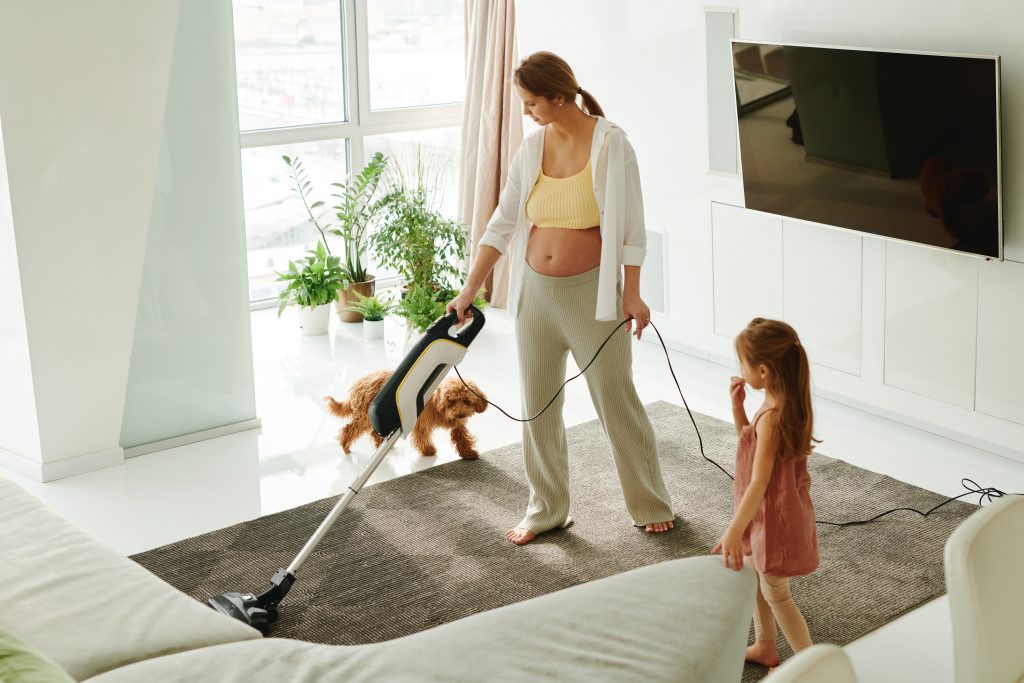 But don't let these small inconveniences put you off from bringing home a furry friend, as there are several easy ways to keep your home clean and fresh with pets:
Invest in a Good-Quality Vacuum Cleaner
It is vital to have a good-quality vacuum cleaner that guarantees strong suction and excellent performance when you have pets in your home. In addition to pet hair, you are likely to see leaves, dirt, and other debris come into your home with their paws and fur as they love to play in the yard. 
If you have pets in your home, then the Shark vacuum cleaner for pets is just right for you. It is designed with excellent air filtration, strong suction, large dirt bins, motorized brushroll, and a number of additional cleaning attachments and tools that make it ideal for cleaning pet hair, dirt, and debris from bare floors as well as carpets and rugs. 
Use Dark Paint on Surfaces
Paint the lower cabinets in your kitchen and bedroom with a dark shade of paint, as it will be better able to hide mud smears and wet marks made by the wagging tails and wet noses of your pets. Make sure that the wall paint you use can also be easily wiped down to make cleaning a lot simpler. 
Place Door Mats and Rugs
Doormats help catch the dirt and water your pet may drag in. There are several stylish versions available nowadays that not only catch dirt and debris but also give your home an aesthetic look. Place a doormat outside the front door and a washable throw rug inside to ensure they absorb a large amount of dirt and debris as your pet walks across them.  
It is also a good idea to place throw rugs where your pet loves to lounge, like under the sofa, in front of the fireplace, or under the dining table. Be sure to use sturdy and durable materials that are not torn easily and can be hosed down to remove the stains. Another great option is to use carpet tiles, because, in case of an unfortunate accident, you will just need to replace one square, instead of the whole rug.   
Decorative Throws are Helpful
Toss decorative throws at the seat cushion of the sofa and at the end of the bed to prevent dirt marks. This will allow both you and your pet to relax while increasing your furniture's life. Use 100% cotton or acrylic-cotton blend, as they are machine-washable and more resistant to wear and tear.  
Go for stain-resistant materials in high traffic areas such as the living room, as they will help contain the mess while keeping your home looking fresh and clean. 
Use a Lint Roller
Every pet owner is bound to have a lint roller in his arsenal of cleaning supplies. It is the perfect tool for cleaning overstuffed furniture, throw pillows, lampshades, and pretty much all the places your pet likes to lounge.
Wear Latex Gloves while Cleaning
If you find cleaning with your lint brush a bit time-consuming, here's a time-saving hack. Put on your latex gloves and rub your hands along your chair, sofa, car interior, and bed to get rid of all the pet hair in minutes. Wash the fur on the gloves with warm water to clean them completely.   
Surprising Benefits of Adding Shaving Cream to Your Cleaning Kit
There is a wide range of pet stain products available that promise to be a 'miracle worker.' However, one product that works wonders on even the toughest of stains like cat pee and dog vomit is shaving cream. 
Using foam shaving cream will help you clean stains easily and effectively. Simply spray the foaming shaving cream on the stain and leave it for a couple of minutes. Soak a cloth with warm water and wipe it off. The stain will disappear like it was never there.
Always Keep a Cleaner On Hand
Fill a spray bottle with water and white vinegar in equal quantities and add a drop of liquid dish wash to it. This cleaning formula is pet-safe and will work on everything including walls, floors, and sofas. 
Air your Home Regularly
Be sure to open your windows to let in fresh air. This will help you get rid of persistent pet smells. Even on cold days, opening the windows for just 10 minutes can work wonders at deodorizing.  
Regularly Clean Your Pet's Housing and Bedding
And last but not least, keep your pets as well as their housing and bedding clean. Make a regular cleaning schedule and stick to it. Dirty cages and pet housing not only cause discomfort for the pet but also leads to a smelly home. 
Clean out your pet's litter box regularly and use good-quality, highly absorbent bedding material to ensure minimal repugnant smells. You can also use vinegar to dissolve urine build-up.
Pet toys and leads also need to be cleaned regularly to get rid of the strong pet odor. Check the instructions to find out whether they can be machine-washed; otherwise, wash them by hand and set them outside to dry, allowing the sun to kill any offensive odors.
Conclusion
Loving your pet and keeping your house clean at the same time is very easy if you follow the tips mentioned above. Also, make sure that you choose cleaning materials that are not harmful to use around pets. Go for environmentally friendly products and avoid using harsh or strong products like bleach.