Spring Home Makeover with La-Z-Boy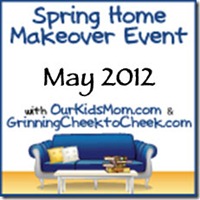 La-Z-Boy | More Than Your Daddy's Recliner | Sectional Shopping

What is the first thing you think of when someone says La-Z-Boy?
Be honest…
You pictured a big overstuffed rocker recliner that your Daddy has/had in the corner of the living room or in his man cave, right? I know that is what I (mostly) thought of until recently.
I had heard that La-Z-Boy offered regular seating, but I never really pursued it because I assumed it would all be along the same lines of the chairs I had envisioned. Imagine my surprise when I recently visited the local La-Z-Boy showroom to check out their sectionals.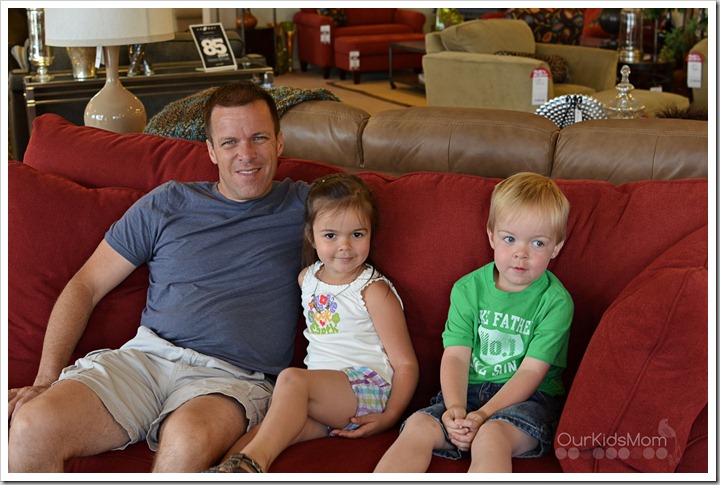 The family and I stopped by our local La-Z-Boy showroom to check out their living room furniture. My first impression after walking in was "Why did I wait so long to check out La-Z-Boy?!". All of the pieces that greeted me at the door were classy, clean and inviting.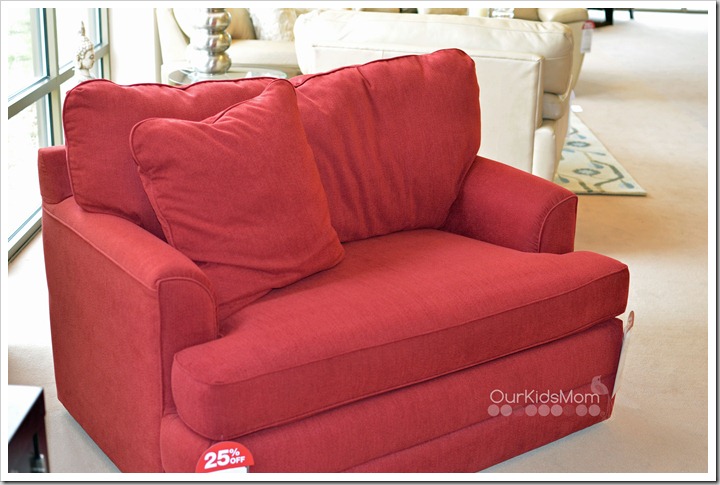 I had been discussing with a rep via email different types of sectionals and we had determined that either the Collins or the Daphne sectional would be a good fit for our large family. We have had issues in the past when all six family members wanted to sit on the couch for a family movie, so the thought of a sectional with lots of room was heavenly to me. Unfortunately the Daphne and Collins sectionals were not on the floor, but both of these lines are also available in regular pieces that were on the floor so we "test sat" on them (the two photos above are of the Daphne pieces).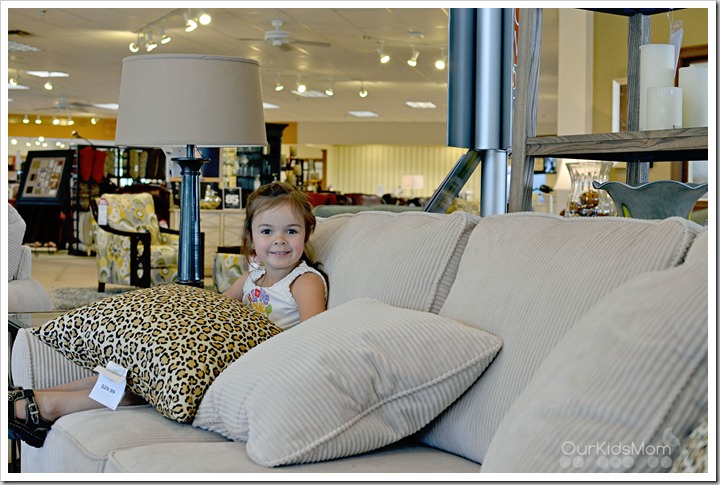 After we got a good feel for the Daphne we headed over to the Collins sectional. There were many similarities between the two, but the main difference was that the back cushions on the Collins were attached whereas the back cushions on the Daphne were not. Emma is taking a test seat on the Collins piece above.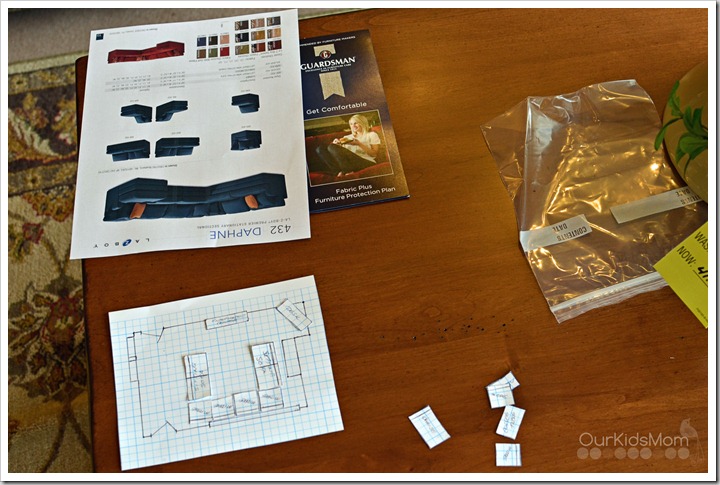 Once we determined that the Daphne sectional with the best fit for us, we then had to decide which of the sectional pieces would fit best in our living room and in what configuration. Fortunately my husband is of the mathematical kind and made a scale version of our living room on graph paper as well as our existing pieces of furniture and the sectional pieces. Our salesperson laughed at our attention to detail and then quickly mentioned she is just like us and would have done the same thing. We spent some time discussing our needs, wants and desires with her and finally settled on a configuration (hint: it is not the one shown above!).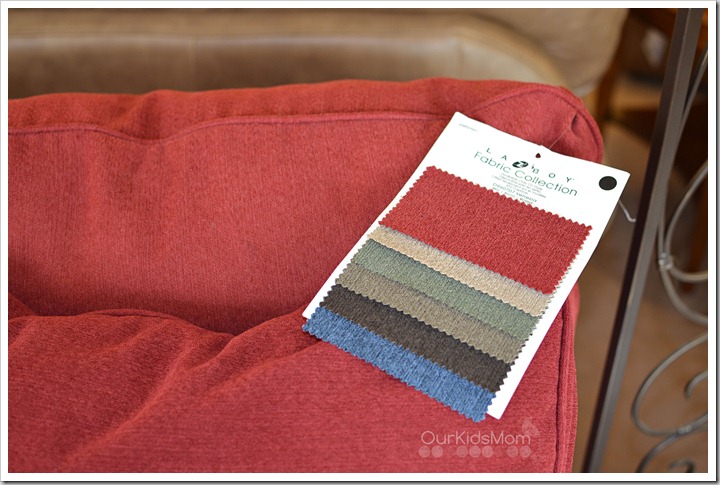 Once we knew what pieces we needed, it was time to pick out the fabric. The photo above shows the standard fabric choices for the Daphne… all of which were acceptable, but just to cover our basis we asked if they had more to choose from.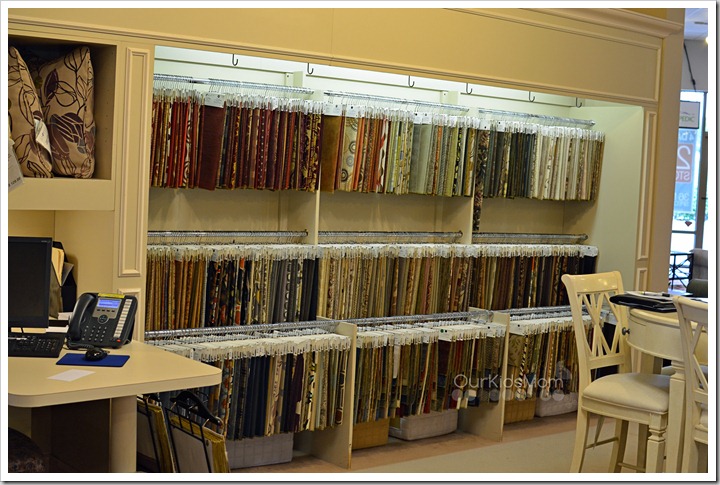 Famous last words… right? Oh boy! did they have more to choose from. Fortunately we narrowed down our choices quickly because we are "play it safe", dull and un-daring people… we were looking for an earth tone fabric.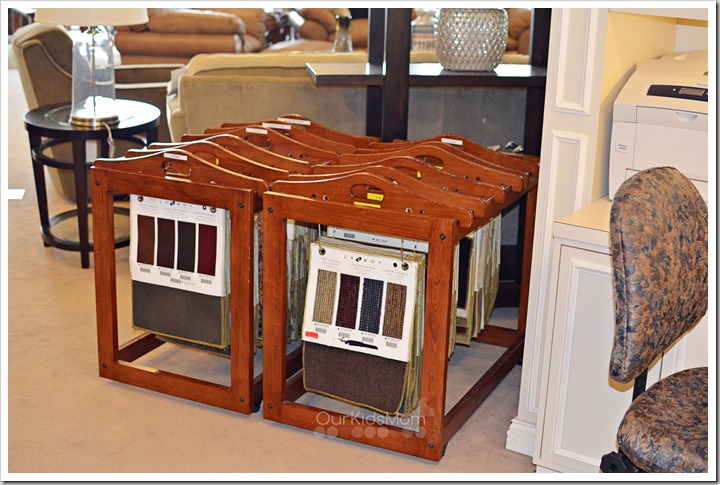 Just when we thought we had gone through all of our choices the sales rep pointed to this little display behind us. If I were a very open minded person I could have spent days looking through them and debating swatches before I made my choice (I think my husband was happy I wasn't open minded about this).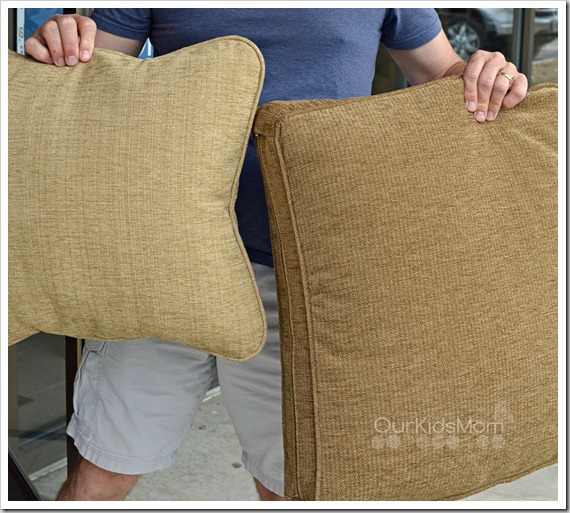 Three of our top choices were actually on pieces on the sales floor… so we went for a little walk to see them on a larger scale. I'm so glad we did because one of them was a complete "On NO!" the minute we saw it. The other two were similar enough that we decided to take them outside to see them in daylight (the florescent lighting made things a bit yellow in the showroom).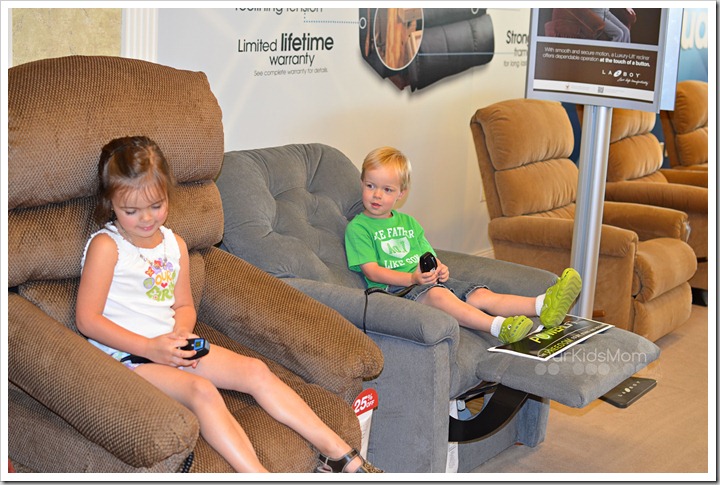 As we were making our final decisions, Emma and Ethan decided to take the power lift chairs for a test spin. By this point I was a little frazzled from shopping with their little high energy low attention span bodies… I was thrilled they finally found something that caught and kept their attention (why hadn't I found this at the beginning of our shopping trip?!).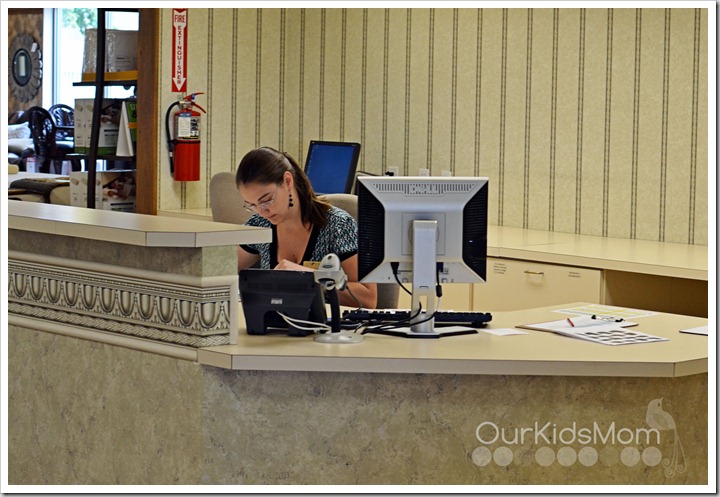 The time had finally come to make our final decisions. We had discussed the benefits of the Guardsman Fabric Protection Plan with our super kind and ever patient sales person. With a house full of kids we agreed it would be best to get it. After she wrote down our decisions she headed for the sales desk to print out a final sheet for our approval. We were given a sample photo of our choice along with the sales sheet… I am super eager to see how it compares to our final product (hint: check out the photo of my husband holding two pillows… we chose the pillow on the left).
 What do you think?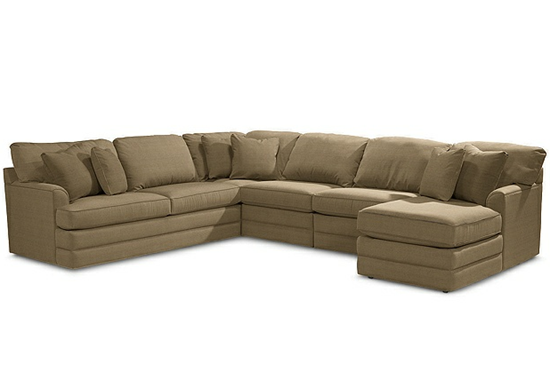 Connect with La-Z-Boy for up to date product information, promos and sales:
WIN IT:
Check back mid June for an exciting product announcement and a chance to win a $1,500 La-Z-Boy Gift Certificate!
Disclosure of Material Connection: I received one or more of the products or services mentioned above for free in the hope that I would mention it on my blog. I only recommend products or services I use personally and believe will be good for my readers. I am disclosing this in accordance with the Federal Trade Commission's 16 CFR, Part 255: "Guides Concerning the Use of Endorsements and Testimonials in Advertising." The opinions expressed in this post are entirely my own. Your experience with the product may differ from mine. The sponsor is responsible for prize fulfillment and will be shipping the winner(s) their prize(s). For more information read my disclosure policy.