Holiday Entertaining with Giada De Laurentiis for Target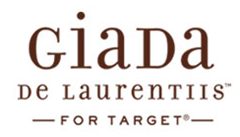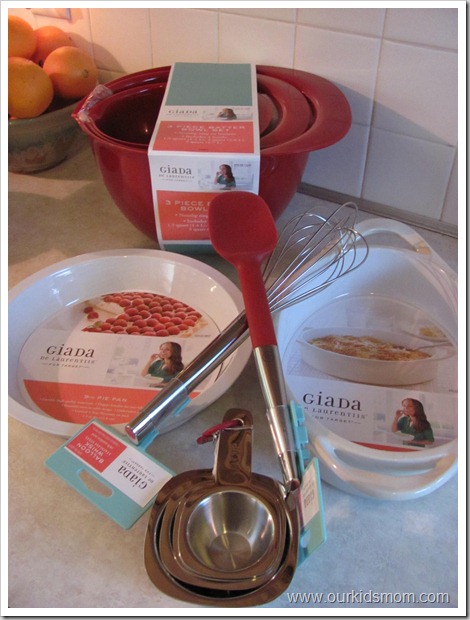 Giada De Laurentiis for Target is a new line now available at Target that is sure to compliment your holiday baking, cooking and serving this year. No matter what holiday you celebrate this season your celebrations are sure to include food. Giada is here to help.
I was sent the mixing bowl set, measuring cups, wisk and rubber spatula for my prep work. I was impressed with these pieces the minute I pulled them out of the box. I am all about how items "feel" in my hand. These all have a very solid, well built feel to them.
I love that the mixing bowls have a "lip" to them to grab onto while tipping and steadying the bowls. They are solid plastic with no give whatsoever. The wisk and rubber spatula are also sturdy pieces. While using them to mix I felt like they would hold up to some of the stiffest batter I make. The measuring cups are some of the heaviest I have ever felt. The are very substantial pieces that will last quite a while. The outer lips help while leveling off and the measurement is imprinted instead of stamped… no worry of rub off. All of these cookware items have an air and feel of high dollar/top quality.
The pie plate and oval baker are a nice heavy ceramic. I love ceramic bakeware and know that my green bean casserole will have a nice presentation now when baked in the oval server. Pie… mmmm, pie. The perfect ending to Christmas dinner. Now the pie will look as good as it tastes in Giada's ceremic pie plate. Presentation is half the battle of serving the perfect holiday meal.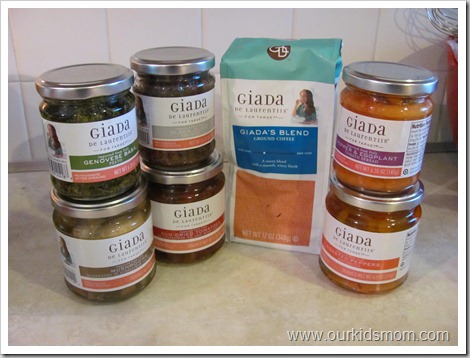 Giada also has a line of grocery items to help in your holiday meals. From pesto, roasted red peppers and marinated mushrooms to coffee. These are specialty item that will help save a little prep time.
Giada offers several tips to help your holidays run a little smoother. Here are a few that stood out to me:
·      Plan ahead!  Prepare most of your dishes ahead of time, rather than trying to cook everything at once.  You'll feel less stressed and will be able to enjoy the party.  Giada recommends leaving only one item for last minute prep – this brings everyone into the kitchen and sets the tone for a cozy, comfortable evening.
 
·      Don't overdo your menu – keep it simple!  As a general rule, Giada suggests offering four to five appetizers.  During the holidays, choose foods that have vibrant colors for an added festive touch.  Also select foods that are beautiful to serve and easy for guests to eat.
·      Create less work for yourself by using multipurpose kitchen tools.  The Giada De Laurentiis for Target Ceramic Bakeware can go directly from the oven to the table.  The bakeware beautifully displays the dish and makes less clean-up for you!  Kitchen and food items also make wonderful gifts.  Add a personal touch to a hostess gift by baking your favorite homemade pie in The Giada De Laurentiis for Target Ceramic Pie Pan.  
are also easy
Top off your dinner with a cup of Spiced Coffee with Cinnamon Whipped Cream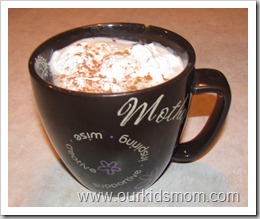 Recipe Courtesy of Giada De Laurentiis
·      1 cup granulated sugar
·      ¼ tsp ground allspice
·      ¼ tsp of ground cinnamon, plus more for dusting
·      ¼ tsp ground ginger
·      1 cup boiling water
·      1 cup brewed Giada De Laurentiis for Target Giada Blend Coffee
·      1 cup heavy cream
·      2 tbsp confectioners' sugar
1.     In a small sauce pan combine the granulated sugar and ½ cup of water. Bring to a boil over medium heat and reduce heat to low.
2.     Add allspice, cinnamon and ginger. Simmer for 5 minutes or until sugar is dissolved.
3.     Take the pan off the heat and set aside.
4.     In a heat proof pitcher or measuring cup add the boiling water to the coffee /espresso. Divide it among four 6 to 8 oz cups.
5.     Add 2 tablespoons of the spiced syrup to each cup and stir to combine.
6.     Using an electric mixer with a whisk attachment beat the heavy cream until soft peaks form. Add confectioners' sugar and continue to beat until stiff.
7.     Top each with a dollop of whipped cream – dust with cinnamon and add cinnamon stick.
Yield: 4 servings/ 4 (6-8 oz) cups
Prep Time: 10 minutes
Cook Time: 7 minutes
BUY IT:
You can purchase Giada De Laurentiis products at Target:  
Black Olive Tapenade, $2.99
Giada Blend Coffee, $6.99
Marinated Sun Dried Tomatoes, $3.49
Marinated Roasted Red Peppers, $3.49
Marinated Mushrooms, $3.49
Genovese Basil Pesto, $3.49
Eggplant & Pepper Pesto, $2.99
2-Quart Ceramic Oval Baker, $19.99
9" Ceramic Pie Pan, $16.99
Silicone Spoonula with Stainless Steel Handle, $9.99
3-Piece Plastic Bowl Set with Pour, $19.99
Stainless Steel Balloon Whisk, $7.99
Stainless Steel Measuring Cups, $15.99
Disclosure: "I wrote this review while participating in a blog tour by Mom Central Consulting on behalf of Giada De Laurentiis for Target and received product samples to facilitate my review."