When small and cheerful fellow travelers appear nearby, a family vacation ceases to be an event for two lovers and the burden of responsibility suddenly changes. Now tourists need to think not only about their own passport and insurance, but also about a lot of pieces of paper for those who can't take care of themselves yet. 
Traveling is a very important educational experience for children. It helps kids to look at the world with completely different eyes. Children of travelers regularly get a lot of new impressions, taste foreign dishes and get acquainted with a new culture.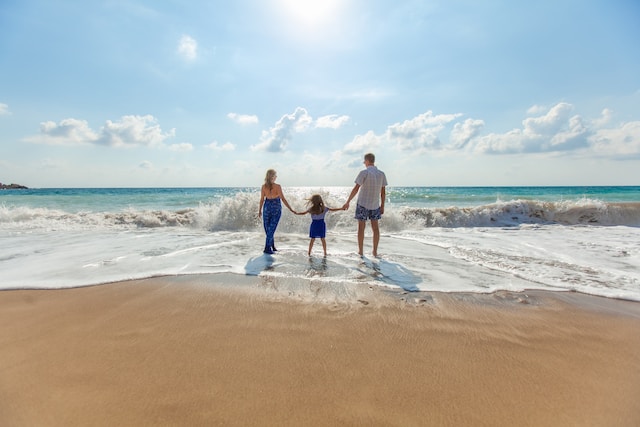 Child's attention while flying by plane 
If you are an experienced parent, you probably know that there are many ways to entertain children on the plane. You also probably know that if this is not done, the flight may not be the most comfortable process for both parents and other passengers. Therefore, you can keep your child busy with conversations, compact board games, watching cartoons and drawing.  
What to do with little babies? It is enough to stick to their usual daily routine, you can also walk with him around the cabin of the plane. Be sure to bring your favorite toys, bottles and books with illustrations for your baby. 
Documents 
The documents required for the trip are a very individual point of planning a trip. The number and features of the documents may vary depending on which country the trip is planned. But one thing always remains the same – a passport, insurance, a foreign passport if it is necessary and a few photos on the documents in reserve. And yet there are situations for which it is very difficult to prepare. These situations include updating photos to documents when they are urgently needed. In such cases, modern services, such as walgreens, are very helpful. Tourists can prepare their documents right from the comfort of home. 
It is also worth remembering that in the case of trips with a child, you should never save on an insurance policy! The more emergencies are included in the policy, the more comfortable and safer you will feel on the trip. Before traveling abroad, it is worth visiting a pediatrician, as well as checking the child for allergies, because the environment of a new country may be uncomfortable for a small organism. 
Luggage 
Surely you have more than once noticed massive suitcases with strollers in the hands of one person. Most likely, this is a tourist who is going on vacation with his or her child. This risk is absolutely justified, because the child needs to feel easy and comfortable anywhere in the world.  
If you have the opportunity to purchase a separate stroller for traveling, be sure to use it. A compact, easy-to-assemble stroller will be delivered with your luggage. It may sound expensive, but you will definitely appreciate this effort in the midst of a vacation. 
Choosing a hotel 
There is no trace of trips by newlyweds and spouses without children. The time when you could stay in two-star and three-star hotels, hostels for one night and just in other people's apartments has come to an end. Now comfort and safety are your priority. In addition to pleasant reviews from guests in the choice of food, the local pool and spa, it is worth paying attention to whether there are clubs on the territory of the hotel from where annoying music can be heard. Also, if possible, you should focus on the personal recommendations of friends who have managed to evaluate the apartment together with the children. After all, strangers from the Internet are not always the most trusted people. 
Entertainments 
This point is often neglected in preparation. It seems that it is quite simple to come up with entertainment out of the blue. However, children's entertainment is often directly related to the location of the hotel, the city and culture. Therefore, it is also worth considering this point in advance. 
Expect to hold entertainment events on separate days from each other. This way you will have more strength, and the saturation of events will not disappear. 
Think about the entertainment program at the hotel or what the tour operator provides. Long and exhausting trips, excursions, museums are not the best entertainment for a little person. It is worth considering the simplest options, for example, a water park at the hotel, a boat trip, an amusement park, a zoo, an aquarium, a cinema. 
Conclusion 
A trip with children is a wonderful time that is always remembered with warmth and joy. Parental preparation is an important stage that can prevent all negative impressions. Be careful and your trips with kids will definitely remain bright and positive memories for you and your children.