6 out of 10 girls stop doing what they love because they feel bad about their looks. I was one of them! I worked so hard for so long to finally make the high school drill team. I was still a bigger girl, but I made it! Half way through the season my low self esteem won. I felt like I wasn't good enough, didn't fit in, didn't belong… and I dropped out.
I am determined to break that cycle with my own girls. The media has created this false sense of beauty through their airbrushed ads that is near impossible for our girls to match. We need to make sure our girls know what real beauty is.
Dove® research shows that it is still important for us to address girls' anxiety about looks, as there is a universal increase in beauty pressure and a decrease in girls' confidence as they grow older. Key findings from their latest research include:
• Only 4% of women around the world consider themselves beautiful (up from 2% in 2004)
• Only 11% of girls globally are comfortable using the word beautiful to describe themselves
• 72% of girls feel tremendous pressure to be beautiful
• 80% of women agree that every woman has something about her that is beautiful but do not see their own beauty
• More than half (54%) of women globally agree that when it comes to how they look, they are their own worst beauty critic
SOURCE: Dove Research: The Real Truth About Beauty: Revisited
Join women across the county, October 5-7, when Dove will be holding a nationwide rally to talk about beauty, confidence and self-esteem. Commit to talk to the girl in your life during the weekend and beyond – it all starts with a conversation.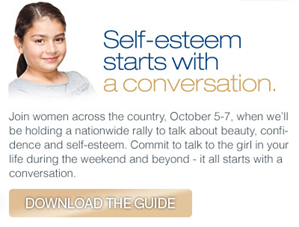 If you can't share over that particular weekend, any time is a good time to start the conversation.
Not sure where to start? Download the Let's Talk Toolkit using the provided link. It's a great resource for all women on starting a conversation in a simply way. Ask, Share, Listen and Act – you'll find unintimidating ways to make these a natural part of your talk about Self-Esteem.

You can share your commitment to girls' self-esteem with your friends on Facebook, too! Visit Dove's Facebook Page or use the Send a Note of Confidence Link to select your message and share with your friends.

We'll be kicking off the Self-Esteem Weekend with an inspiring Twitter Party on October 4 at 3pm ET!  Join @Dove by using the hashtag #DoveInspired, where you'll be able to ask @JessWeiner , Dove's Global Self Esteem Ambassador, questions and advice with prizes from Dove.
I hope you'll join me on this very important mission…  share these simple steps to help foster self-esteem and self-confidence in our young girls. The Let's Talk Toolkit can help you get started.
Thanks to Dove for sponsoring today's discussion